Sleep
Best Mattress Canada
Sleep
Best Mattress Canada
The best mattresses in Canada for all sleep styles, bodies, and budgets.

Let's be honest—life is too short for restless sleep. There are a lot of factors that can impact sleep quality — health, diet, activity level, stress — but choosing the wrong mattress for your body can turn sweet dreams into a nightmare.
Finding the best mattress with the right combination of comfort, support, and features can help you sleep better and wake up feeling refreshed, but you might not know where to look. To help, here is a list of the best mattresses for every type of sleeper.
And to make your decision even easier, every mattress on this list has free shipping to most addresses, a 120-night sleep trial, a 15-year warranty, and is made in Canada! What's better than that, eh?
Best Overall Mattress — Douglas
Photo credit: GoodMorning.com
'Goldilocks' sleepers looking for a mattress that's not too hard, not too soft, just right — plus cooling, supportive, and well-priced — will enjoy the Douglas mattress.
Douglas is a medium-firm mattress with an unbeatable balance of comfort and support. Douglas has three layers of foam that work together to minimize pressure points and keep your spine in proper alignment throughout the night, making it comfortable for just about every type of sleeper.
Why You'll Love It?
The medium-firm feel gives sleepers the right amount of softness around the shoulders and hips with enough support to keep you from sinking too deeply into the mattress;
Douglas has cooling gel foam that dissipates heat and keeps the mattress feeling cool, no matter the season;
Douglas has a machine-washable mattress cover for easy cleaning;
The bottom layer of the Douglas mattress is made from high-density support foam that minimizes motion transfer, making it ideal for couples;
Douglas starts at only $619.
Best Memory Foam Mattress — Novosbed
Photo credit: GoodMorning.com
People who sleep on their sides can benefit from a memory foam mattress like Novosbed. Memory foam is ideal for side sleepers because it conforms to the shape of your body and gently hugs your curves, minimizing the formation of painful pressure points.
Novosbed uses premium foams that are specifically designed to react to your body while you sleep. Novosbed combines open-cell and high-density foams for a perfect balance of cushioning and support.
Why You'll Love It?
Novosbed is available in three firmness options: Soft, Medium, and Firm;
High-density memory foam is durable and long-lasting;
Novosbed's top layer is made from an open-cell airflow foam to improve breathability for a cooler sleep surface;
Novosbed offers a free Comfort+ firmness adjustment kit as part of the 120-night sleep trial, allowing customers to make their mattress softer or firmer depending on their sleep preference;
Novosbed starts at $999.
Best Luxury Hybrid Mattress — Logan & Cove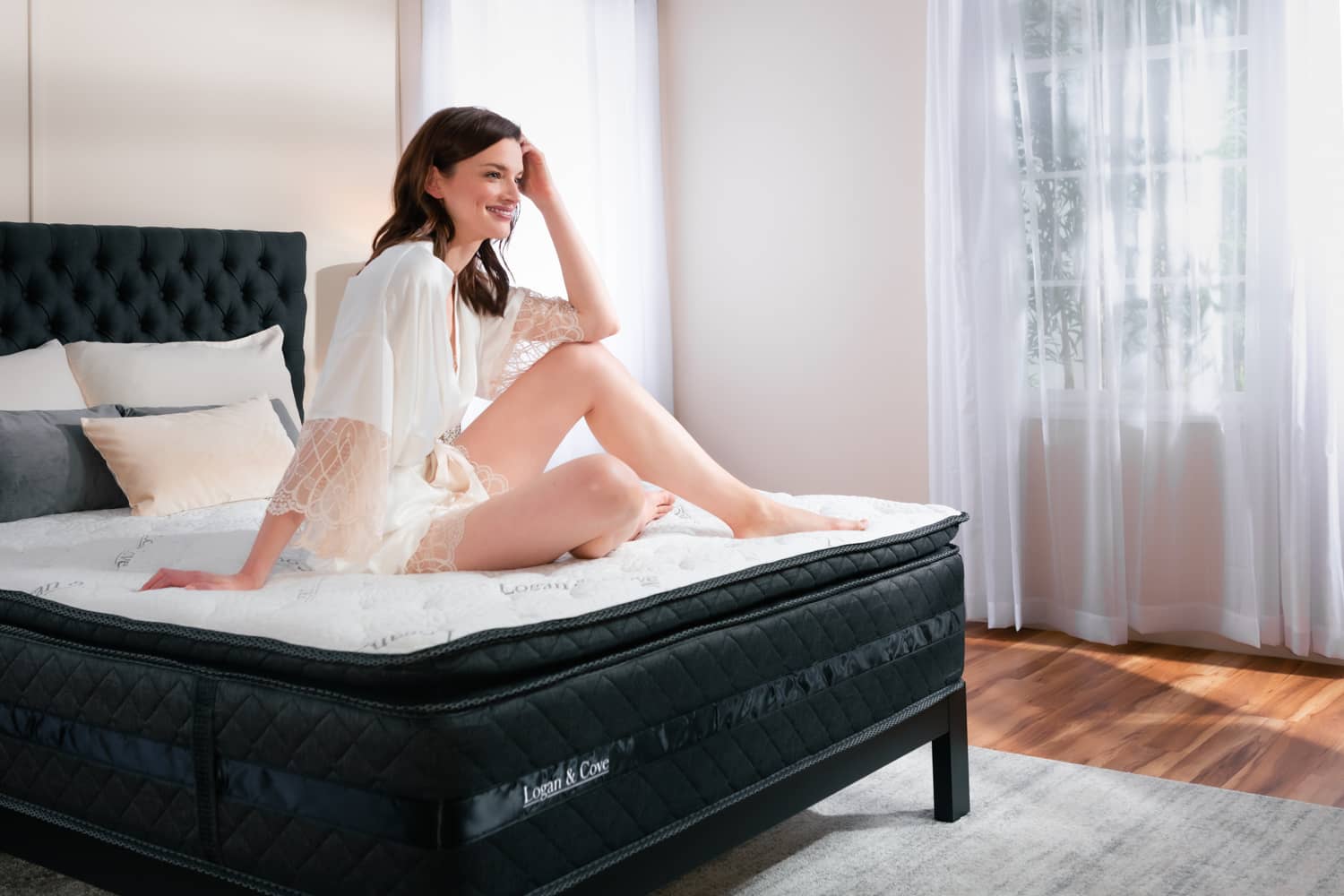 Photo credit: GoodMorning.com
Logan & Cove is a high-end hybrid mattress that gives sleepers targeted support that can help alleviate aches and pains.
Hybrid mattresses are a great choice for back pain sufferers because they combine a variety of materials for gentle pressure relief and firm support. Logan & Cove has a plush pillow-top, cooling gel memory foam, and pocketed steel coils, giving it an incredible balance of comfort, cooling, and all-night support.
Why You'll Love It?
Logan & Cove is available in two firmness options: Medium Plush and Luxury Firm;
The pillow top is made from breathable moisture-wicking fabric and silk-blend filling that helps regulate temperature;
Logan & Cove has individually pocketed steel coils reinforced in the centre of the bed for added support under the spine and hips;
The two layers of cooling gel memory foam helps dissipate heat;
Logan & Cove's bottom layer is reinforced with edge support foam for added stability at the sides of the mattress;
Logan & Cove starts at $899.
Best Value Mattress — Juno
photo credit: GoodMorning.com
You don't have to spend a lot to get a great night's sleep. Shoppers on a budget will appreciate the incredible value and comfort of the Juno mattress.
With an unbelievable starting price of only $329, the Canadian-made Juno mattress doesn't sacrifice comfort for savings. Juno's all-foam design is great for a variety of sleep styles and body types making it an ideal choice for kids, teens, guest rooms, and anyone looking for a great mattress at a reasonable price.
Why You'll Love It?
Starts at only $329;
Juno has a cushioning comfort layer infused with cooling gel for temperature control and pressure relief;
The bottom layer is made from a high-density support foam that helps minimize motion transfer from one side of the mattress to the other;
Juno has a breathable cover that improves airflow so heat won't get trapped in the mattress;
The Juno mattress has a medium-firm feel that is great for all sleep styles.
Best Premium Mattress — Apollo
Photo credit: GoodMorning.com
If you're tired of being woken up by your partner's tossing and turning, check out the Apollo mattress from GoodMorning.com. Apollo is a hybrid mattress that combines premium foams and individually pocketed micro-coils to eliminate motion transfer.
In addition to minimizing sleep disturbances, Apollo uses only luxury and premium materials, giving this mattress unparalleled comfort features from top to bottom.
Why You'll Love It?
The Apollo mattress cover is made from a breathable and moisture-wicking PolarMAX™ fabric that is noticeably cool to the touch;
The top layer is infused with cooling gel and antibacterial copper for added temperature control;
The Apollo transition layer is made from an open-cell foam with an added edge support casing for improved breathability and sidewall support;
The pocketed micro-coils compress individually to contour to the body and stop motion transfer;
Apollo starts at $949.
Final Word
There you have it, Canada! Great sleep always starts with a great mattress. No matter your sleep style, comfort preference, or budget, there is a Canadian-made mattress that's just right for you. Happy snoozing!