Style
Attention fashion keeners: Fall 2012's Top 5 essentials
Style
Attention fashion keeners: Fall 2012's Top 5 essentials
Fall is officially upon us, which means only one thing: it's time to get smart with my seasonal purchases. Whether it's a trendy item that might not carry through till next season or a piece that promises to be a modern classic in your wardrobe, I'll show you all the noteworthy essentials for the season. Plus, I'll fill you in on which pieces you should put your dollars behind and which ones you can spend a minimal amount of money on and get the look for less.
BURGUNDY JEANS
Shades of burgundy and wine hit it big this season. There's no denying burgundy is fall's hero colour – and what better way to wear this bruised berry hue than on a pair of fitted jeans. It's a look you can purchase at all price points. But personally, I don't think you need to invest in a pricey pair of oxblood skinny jeans. You can get the look for less, and chances are the shelf life of this colour won't keep till next season.
COLLAR NECKLACE
These detachable collar necklaces came onto the scene in a big way this past spring/summer, and they've stuck around for fall/winter. A detachable blouse topper can instantly freshen up any outfit. If you're not really into jewelry, then I say go cheap because there are a ton of affordable options out there.
CLUTCH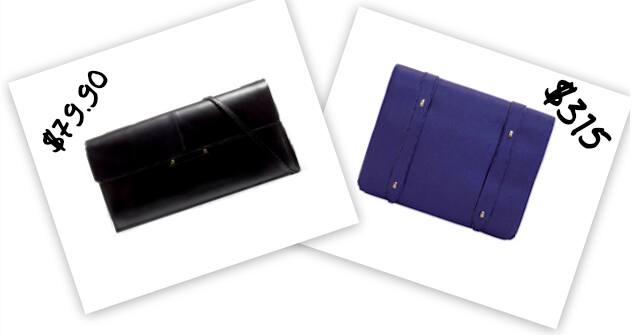 Clutches have once again fallen back into favour with the fashion crowd. Look for ones that are oversize and a little bit slouchy. To find a chic one, you're going to have to invest in a wee bit of coinage, though.
LIQUID GOLD
We saw metallic fabrics make a return to the runway this fall – especially golds. It's definitely a trend that will get you noticed. Look for clothing with metallic finishes or subtle embellishments in this gilded hue. Although this trend looks luxe you can get the look for less.
LEATHER
See ya later, summer pastels and girly cotton lace frocks! Leather is making a major comeback, and I for one couldn't be happier. You'll see a superb assortment of leather this season. The ultimate piece to own is, of course, a leather jacket. Don't be affraid to splurge on this trend as it will never go out of fashion.