Style
High/Low: Lip Gloss
Style
High/Low: Lip Gloss
My latest obsession in lip products is highly pigmented jelly-like glosses. I was first introduced to them last spring when luxe brands like
Chanel
and
Dior
came out with these vibrant yet wearable formulas. I was particularly smitten with the new (at the time) Dior Addict Crystal Gloss which was a vividly coloured gloss in the tube, however once applied it left my lips with a burst of sheer colour. After the shine of the gloss was long gone my lips were left with a pinkish stain that lasted all day. So pretty. [caption id="attachment_1932" align="aligncenter" width="409" caption="Dior Addict Crystal Gloss, $31/ Joe Fresh Pop Gloss, $8."]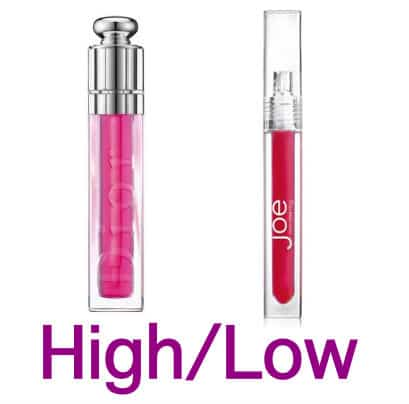 [/caption] Needless to say it didn't take me long to drain both the Chanel and Dior. So when I saw the gloss pop up in the spring offerings from Dior for a second run I was beyond happy. The colours are slightly different yet equally pretty—still offering the highlighter pink shade I love called Fuchsia. The only drawback to the gloss is the hefty price tag. It will set you back $31—I'm going to have to save my pennies so I can stock up. Or find a substitute... Perhaps the beauty gods were listening or maybe just the fine folks over at Joe Fresh Style because last week a package arrived with the new
Pop Glosses
, costing only $8 each! They come in seven shades, each one better than the next. I tested out Pink Lemonade and Petunia and I'm digging the ratio of colour vs. glossiness. The gloss applied easily and can be built up for a higher colour payoff. We want to know: What lip gloss, lipstick or lip balm are you obsessing over?
Dior
is available at select department stores.
Joe Fresh Beauty
is available at Loblaws Super Stores.