The ultimate wardrobe necessity for the coming season is a timeless trench.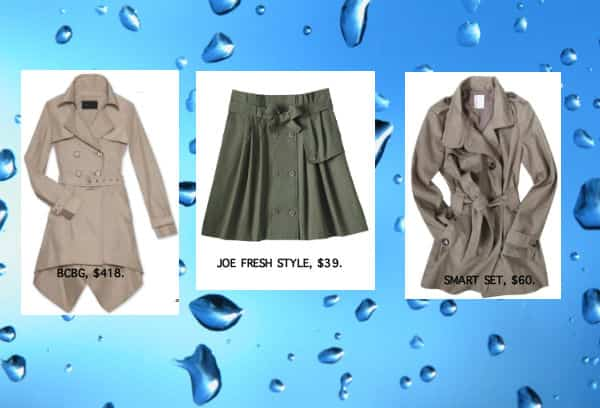 There are few pieces of clothing that every age, gender and body type should have in their closet. One of those items being a classic trench coat. Trenches aren't just for rainy weather—even though they do look precious paired with wellies on damp days. A well fitted one adds a touch of espionage tailoring to any outfit. I think that's why I love them so much (I own 6 in multiple colour ways), if I'm having one of those relaxed/poor outfit choice days, a well made trench conceals my fashion crimes and always makes me look pulled together and dare I say a little bit chic! I'm sweet on this light khaki trench, equipped with penguin tails from
BCBG
. Yes it's a splurge for $418—but if you're going to invest, then please do so on wardrobe staples, like a trench coat. If that price isn't an option for your shopping budget then check out this classic style from
Smart Set
. A great deal, only $60. Finally, I added this military green trench skirt, $39. I just wanted to shake things up, and see if you're paying attention. It's from Canadian retail hero,
Joe Fresh
. No it's not a coat, but it evokes the same vibe. The double-breasted skirt would look adorable paired with a button down shirt and a scoop neck sweater. Bring it on spring! I'm ready for you and so is the rest of Canada.