Food
More Free Stuff! Cook Like a Chef Give-Away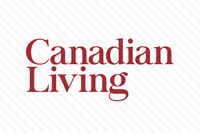 Food
More Free Stuff! Cook Like a Chef Give-Away
FELLOW FOODIES - I HAVE NOT RECEIVED SUBMISSIONS FOR THIS CONTEST SO I WILL BE GIVING AWAY THE WEST COOKBOOKS ON FEBRUARY 13TH TO THREE GREAT GRILLED CHEESE MAKERS - CHECK OUT THE DETAILS AT
Two Free Tickets to "A Cheesy Soiree" For Foodie-file Readers
Here is the recipe for
Tian of Dungeness Crab and Coucous with Smoked Tomato Gazpacho
that I had at the
West luncheon
. Recreate this masterpiece and send me the picture along with your own innovations to compete for the three West Restaurant cookbooks I have to giveaway. Feel free to take liberties with the recipe, there are a lot of steps and ingredients, so make it your own and give Chef Garaghty a run for his money!
Send your pictures to cpicheca@canadianliving.com. You have one month to whip up your versions, I will announce the best 3 chefs the first week of January.
Ok, go get cooking!
Tian of Dungeness Crab and Couscous with Smoked Tomato Gazpacho
Crab and CousCous Tian
16 cups court bouillon 1 Dungeness crab (about 2 lbs) 1 cup couscous 3/4 cup water 1/2 tsp saffron 1/2 red pepper, finely diced Juice of 1 lime Zest of 1 lime 2 Tbsp raisins, chopped 10 leaves cilantro, finely julienned 2 Tbsp mayonnaise 1 tsp hummus Juice of 1 lemon 1/2 tsp basil oil Bring court bouillon to a boil in a large pot on high heat. Add crab and cook for 8 minutes. Allow it to cool, crack the shells and pick out the crab meat. Reserve four nice-looking leg pieces for garnish. Place uncooked couscous in a large heatproof bowl. Bring the water to a boil with saffron and a pinch of salt. The water will turn bright yellow. Pour this water over the couscous, gently stirring with a fork to get rid of any big lumps. Cover the bowl with plastic wrap and allow it to sit for 20 minutes. Set aside at room temperature. Preheat the oven to 350°f. Place the red pepper in a roasting dish and roast it in the oven for about 20 minutes until brown. Peel off the skin and remove the seeds. Finely dice half of it, reserving the other half for the gazpacho or another recipe. Add the diced red pepper to the couscous, along with the lime juice, lime zest, raisins and cilantro. Mix the crab meat with mayonnaise, hummus, lemon juice and salt. Cut a 12-inch x 12-inch piece of plastic wrap. In the centre of the plastic wrap, spread a ¼-inch layer of couscous measuring about 6 inches x 3 inches. Spoon half of the crab mixture into the centre of the couscous rectangle. Using the plastic wrap, tightly roll the crab meat into the couscous, as if rolling sushi, to make a long cylinder about 1½ inches in diameter. Tie both ends of the plastic wrap and allow the cylinder to set in the refrigerator for at least 2 hours—any less time and the roll may fall apart. Cut another 12-inch x 12-inch piece of plastic wrap and repeat with the rest of the couscous and crab to make a second roll.
Smoked Tomato Gazpacho
4 ripe Roma tomatoes 1/2 medium carrot 1 shallot 1/2 red pepper 1 clove garlic 2 Tbsp olive oil 1/4 cucumber, peeled and cut into 1/2-inch cubes 3 basil leaves Juice of 1 orange 1/2 tsp sugar 1/4 tsp cumin seeds, toasted 1/4 tsp paprika 11/2 Tbsp sherry vinegar 1 bread roll, cut into 1/2-inch pieces 1/4 cup tomato juice Place the charcoal in the oven for 15 minutes to get it very hot. Remove it from the oven, then use a kitchen torch to ignite the charcoal and allow it to burn for 3 minutes. Place the charcoal in a solid stainless-steel pot. Sprinkle a handful of dry smoking wood chips on and around the charcoal. Place a perforated tray covered in aluminum foil 4 inches above the charcoal, then set the tomatoes on the foil, cover the pot and smoke for 5 minutes. Preheat the oven to 350°f. Toss carrot, shallot, red pepper and garlic in a roasting pan with the olive oil and roast for about 15 minutes until golden brown, stirring the vegetables halfway through. Place the roasted vegetables, smoked tomatoes, cucumber, basil, orange juice, sugar, cumin, paprika, sherry vinegar and bread in a large non-reactive bowl. Cover with plastic wrap and refrigerate for 24 hours. Transfer this mixture to a food processor. Add tomato juice and blend for 3 to 4 minutes, then pass it through a fine sieve and season with salt and pepper. To serve, in each of four soup bowls, ladle a quarter of the gazpacho. Unwrap the rolls and slice into 2-inch-tall tians, placing a tian in the centre of the gazpacho. Drizzle basil oil around the tian and top with a piece of crab leg meat. Serves 4
I still have 5 books left in my holiday cookbook giveaway! Martha Stewart's Cooking School is up next. Sign up to have Foodie-file delivered directly to your e-mail inbox and it could be yours.