Food
Whisky Tasting in the Test Kitchen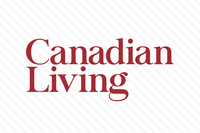 Food
Whisky Tasting in the Test Kitchen
Last Thursday we had David Mair, the
The Balvenie's
global brand embassador, come to the test kitchen to lead us in a tutorial about
whisky
. Single malt whisky must be a good draw, as a number of the editorial staff attended! At the tasting, we had the pleasure of sampling some of the best whisky Speyside has to offer. We tried four different Balvenie whiskys, two 12 year old and two 17 year old. My favourite was the 17 year old sherry-cask
scotch
that you probably will not find in your liquor store because it was a limited edition. However, they were all smooth and delicious, each with their own distinct character. The other 17 year old was aged in a rum cask that gave it a bit of a molasses character - it was our food editor Gabi Bright's favourite.
Here is David, standing with web editor Colleen Tully, giving us a tutorial before we started to knock 'em back.
Me, Food Editor Gabi Bright, and Senior Editor Donna Paris enjoy the 17 year old sherry cask single malt.
We were also treated to a fondue made with whisky (Grant's Whisky was used, not the single malts we tasted) and caramelized onions that was a hit with everyone!
Here is the recipe for the fondue. It was served with bread cubes, boiled potatoes, and blanched veggies. We also had Scottish shortbread with our tasting. Shortbread and scotch is a taste sensation, so if you've never had it you must try it, yum! Grant's Whisky Fondue 2 large onions, thinly sliced 1 tbsp butter 1 garlic clove, halved 1 cup chicken stock 1/4 cup whisky 1/2 lb emmenthal cheese, grated 1/2 lb gruyere, grated 1/2 lb brie, rind removed and cubed 1 1/2 tbsp cornstarch fresh ground pepper Slice onions. Melt butter in a saute pan. Add onions and cook over medium heat, until golden brown, about 15 minutes. Rub garlic inside a large dutch oven or heavy bottomed saucepan. Discard garlic. Add chicken stock and bring to a simmer over medium heat. In a bowl combine cheese with cornstarch. Toss to coat. Add cheese mixture a handful at a time to simmering chicken stock. Stir in a figure 8 motion until cheese is melted, Continue with remaining cheese mixture. Add whisky and caramelized onions. Stir to combine. Place in fondue pot and serve. Want to know more about scotch? We have all the basics covered in this expert Q&A with David Mair. Attention foodie friends! Canadian Living would like your opinion! Tell us what you think of our website and you could win 1 of 3 $100 cash prizes!