Entertaining
10 tastes of: Vancouver

Entertaining
10 tastes of: Vancouver
Vancouver restaurateurs are passionate about their chefs and eager to show off their digs. Hot spots around town are:

• Tojo's for sushi
• Chambar for Mussels Congalaise and the best frites in town
• Yew in the Four Seasons Hotel for their raw bar and spectacular, newly designed dining room
• Bonita for cocktails
• Cobre for Latin food, West Coast style
• Bin 941 for small plate menu (locals rave about the Beef Wellington)
• and exotic Sanafir for the scene!

A passion for local products combined with the newly heeled clientele has resulted in a mushrooming of restaurants and a demand for quality ingredients - a foodie combination to be reckoned with. Here are our ten defining tastes of Vancouver and its surrounding county:

1. B.C. Spot Prawns
These shrimp (in image above) are harvested predominately in the inside waters off Vancouver island from May through June or July, making these sweet, delicately flavoured prawns a seasonal treat. A yearly festival heralds their arrival and you will see them on the menus of the acclaimed Coast and Bluewater seafood restaurants. Alternatively, they are for sale by the pound right off the fishing boats at Fisherman's Wharf.



2. 49th Parallel Cappuccino
A walk along gorgeous Kitsalano beach should be prefaced with the java at 49th Parallel's coffee lounge. Vince and Mike Piccolo, co-founder of Café Artigiano, are the reigning kings in Vancouver's coffee-centric culture. The unrivaled creamy, smooth and well-balanced coffee goodness comes from buying, blending, and roasting their own beans.



3. Oyster Po Boy at Go Fish
The line up is worth it at this popular seaside fish shack at Fisherman's Wharf. The Oyster Po-Boy Sandwich carries seared rather than deep fried oysters, served on a soft toasted bun with caramelized onions, lettuce and tomatoes. Their fish is fresh, cooked in a light crisp batter, served with crisp fries and freshly made coleslaw. The tuna wrap (featured in image at left) and seafood chowder are also popular with the regulars.



4. Oyama Okanagan Red Wine Prosciutto
Oyama Sausage Co. is a family run local producer of exceptional quality charcuterie. The prosciutto is made from free range Berkshire Pork and is dry cured in sea salt, soaked in a fruity Okanagan red wine and cured for 2 to 4 months to produce a salty, porky delight. Also try the Jambon Blanc for the best-cooked ham outside of Paris. Their many products are available at their store in Granville Market and at various restaurants around town.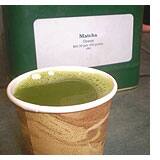 5. Matcha
Vancouver urbanites love their tea almost as much as their coffee and can be spotted with a cup of this carefully ground powdered green tea on the way to the de rigeur Yoga class. Much touted for its health benefits and metabolic boost, this popular caffeinated drink packs a thick, vibrantly green and tannin puckering punch.

6. Vij's Lamb Popsicles
Vij's restaurant serves up Indian fusion cuisine in the South Granville district. The wine-marinated lamb popsicles (in image at left) in fenugreek cream curry on spinach potatoes is standard on the menu and a favourite with regulars. The lamb is perfectly cooked and succulent ,but it's the sauce that's the naan-scooping secret to the success of the dish. Vij's doesn't take reservations but don't be deterred, you get served delicious nibbles in the lounge while you wait for your table.



7. Thomas Hass Sparkle Cookies
This cookie has been proclaimed by Vancouver Sun as the best cookie in the world. Thomas Haas is a hit on the West Coast with these ready-to-bake, decadent chocolaty cookies. Find them in the frozen food section and bake them off one at a time whenever a chocolate hit it is needed.



8. A Pairing at Salt Tasting Room
This unique restaurant/wine bar experience has its customers choosing from an array of ever changing cured meats, cheese, condiments and wines that results in a flight of flavours to savour. A tasting bible profiles every product that comes through the door to keep the staff on top of their well-honed tasting skills. Manager, Taryn O'Gorman's current favourite combo is Cashel Blue Cheese, Similkameen Honey and a nutty Solar Oloroso Sherry.



9. Brunch at Elixir
When you are looking for a "morning after the night before" fulfilling nosh, head to Opus Hotel's Elixir restaurant for their brunch menu. It will not disappoint. The Poached Eggs Catalan served on tomato bread with asparagus, lomo and Manchego cheese will clear away any cobwebs in your head.



10. Cocktails at West
Named Restaurant of the Year by Vancouver Magazine Restaurant Awards four years running, West is the hottest resto spot in Vancouver. If you can't make or afford high-end dining, stop in for a nightcap or warm up for the best cocktails in town. Sit at the bar and enjoy the Asian-inspired ambience and David Wolowidnyk's muddling expertise.

Do you have a Vancouver-area taste to share with Christine? Comment on her blog and tell her your local Vancouver favourite bites.