DIY & Crafts
Guest Post: Getting Loop-y at Knit Night
DIY & Crafts
Guest Post: Getting Loop-y at Knit Night
Hi friends –
I thought it might be fun to have some guest blogs and get some crafty perspectives from across the county. My friend Alli was travelling out west this summer and she sent in the following post.
Enjoy! Austen
Summer vacation is meant for lazy days and doing the things we love most, so why should going away on vacation change that?
For me, this means going to knit night. I don't get to go as regularly as I'd like when I'm working, so I try to not make the fact that I'm on vacation an excuse to not go.
My friend
Amy
(the lovely knitting designer
Indigirl
) told me that her friends had opened a new knitting store called
The Loop
in Calgary's funky Kensington district and that I would have to check it out. A new knitting store in Calgary? Sign me up!
While they don't yet have a
KnitMap
listing, I recognized the address almost right away. In what is surely good karma, The Loop's space has a history of being a craft hot spot in this neighbourhood. The two previous stores at that location were devoted for many years to fine needle arts such as cross stitch, hardanger and needlepoint.
Arriving late, I was greeted by a small but enthusiastic group and the store's bright and cheerful walls!
Correna, one of the shop's three owners (the other two, Marilynn and Annie were on a road trip to Sock Summit) pulled up an extra chair and I was quickly introduced to the gang who included Alana, a recent winner of the crochet division at this year's Calgary Stampede Western Showcase with her entry of the Babette Blanket. Turns out Alana had inspired a few others to crochet the blanket and I was drawn into the colour discussion.
As Correna began winding her favourite colour, a gorgeous lime green by
Wollmeise
that echoed the store's walls, I was able to prowl the store to see (okay, fondle) the yarns they carry.
The fibre selection was wide-ranging, including the luxurious alpaca yarn by Drops Design. Another of the store's owners, Annie, had her own hand-dyed fibre for spinning for sale.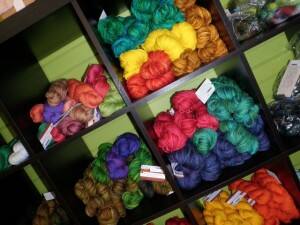 The shop also carries wares from local indie dyer Rocky Mountain Dyeworks.
Sadly, not much progress was made on my own knitting that night but I was thrilled to be able to join and participate in The Loop's community.
I look forward to popping in again on another visit to Calgary. If you're local to the area, make the trip to Kensington to check out Calgary's newest yarn shop!
Knit Night in Calgary Where: The Loop – Kensington (1978 Kensington Road NW, Calgary) When: Thursdays (drop in any time, knit night wraps up around 8pm or a little later) Who: Your fabulous hosts, Marilynn, Annie, and Correna will welcome you to their dream shop.