DIY & Crafts
Hot dog! Check out Douglas's crocheted bow tie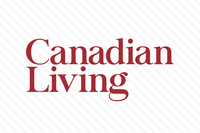 DIY & Crafts
Hot dog! Check out Douglas's crocheted bow tie
Hi friends, I'm sorry, but you know I can't resist the easy, cheesy pun. Douglas is the much-loved dachshund of
Canadian Living
copy editor Lisa Fielding (you've met before: remember her
crafty organization tips
?) and her husband, Dave. These days, Douglas is also the best-dressed dog I know.
Lisa found the
directions for the crocheted bow-tie
in
Craft magazine
. After trying an adult-sized version, she made a few changes to the pattern, then made a tie for Douglas. Here's what she did:
"I altered the pattern to make it dog size, added a separate piece to wrap around the centre, then sewed the whole thing together to slip over his head. 'Cause I wasn't sure if he knew how to tie a bow tie."
Sure, tying a bow tie might be beyond him, and sure, it took
both
Lisa and Dave to wrangle him into sitting up for this photo session. But he's also the
fastest wiener dog in southwestern Ontario
...so I'm willing to cut him a little slack. I mean, seriously. Just look at him.
Thank you for sharing with us, Lisa! p.s. Don't forget to enter
this week's contest
. I'm getting such a kick out of reading your notes.