Culture & Entertainment
5 things Serena Ryder loves about Canada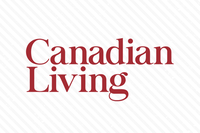 Culture & Entertainment
5 things Serena Ryder loves about Canada
I had the opportunity to speak with Canadian songstress Serena Ryder for the August issue of
Canadian Living
and something that really stuck out from our conversation was how much she loves Canada. "I've been travelling across Canada for the last 12 years, and every year it just kind of blows my mind how beautiful this country is," says Serena. "When I get the chance to actually be in a vehicle and seeing the Prairies, or seeing British Columbia and the mountains, or the Ontario trees and the Niagara escarpment, I find there's just so much beauty in this country." And as Serena has become an internationally acclaimed star, she's had the unique opportunity to travel the world, and see Canada from a fresh perspective. "Canada is definitely my home. I miss it so much when I'm travelling in the States, and I get so excited when I come back home. It's like a breath of fresh air," she says. "There's a familiarity and a friendliness to Canada, and more of a laid-backness. I really like that." In honour of
Canada Day
, I asked Serena about five of her favourite Canadian things. Here's what she had to say.
Favourite Canadian place?
I love Wakefield, Que. It's really beautiful. There's this venue out there called the
Black Sheep
, and I haven't gotten a chance to go there in a while, but it's still one of my favourite places.
Favourite Canadian musician?
That's so hard. We'll say Leonard Cohen for now. For me, Canadian music feels really grounding. And there's an honesty and sincerity that just hits home for me.
Favourite Canadian food?
Dill pickle chips. I haven't seen them anywhere else.
Favourite Canadian author?
Michael Ondaatje.
Favourite Canadian stereotype?
The accent. That's my favourite—how people try to say "aboot." Watch our
video of Serena Ryder
, to learn her favourite uplifting song!
(Photography: Kiriako Latridis)