Culture & Entertainment
Reporter unexpectedly covers her own marriage proposal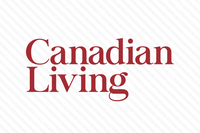 Culture & Entertainment
Reporter unexpectedly covers her own marriage proposal
How's this for a feel-good pick-me-up? We recently shared a story with you about
a quintessential Canadian proposal
-- one man proposed to his girlfriend (now, fiancee), at a Tim Hortons' drive thru a few weeks back. And today, we have another similarly sweet story coming to you from Welland, Ontario. A few weeks ago, Maryanne Firth, a reporter at the
Welland Tribune
, noticed something out of the ordinary -- there were sign boards with pink hearts popping up all over Welland. Strangely fascinated by them,
she even wrote a story
when they first appeared, about how no one had come forward to claim them. As with any good journalist, her curiosity kicked in, and Maryanne made it her mission to get to the bottom of the mysterious pink hearts.
"About a week ago, new signs began appearing next to the existing ones, indicating something was going to happen at Chippawa Park on Sunday at 3 p.m.,'" Maryanne wrote in the Welland Tribune, today, adding that the timing was perfect because she was on call at work during the day. When Maryanne got to the park for the big reveal, she found a man with a box (sporting one of the signature pink heart) covering his face, handing out flowers to people -- including her. Little did she realize that this man was, in fact, her partner of eight years, Ryan St. Denis, and that this elaborate and beautifully executed plan was his way of asking her to become his wife. "Ryan got down on one knee, and as I tried but failed to hold back tears, he asked me to spend the rest of my life with him," she wrote in her article. "No pressure, right?" And her response? "Of course I was ecstatic. Shaking. Crying. Of course I said, Yes!" she wrote.
All together, now: "Awwwwhhhh!" This has got to be one of our favourite proposal stories -- it's classic, sweet and so well planned. Our hats off to you, Mr. St. Denis. You did well! You can read Maryanne's first-hand account of the entire event in her
article in the Welland Tribune
and
follow her on Twitter
, as well. Our congratulations to the happy couple.
All images by Maryanne Firth via Facebook/Twitter