Culture & Entertainment
Saturday Afternoon Book Club – January 2013: Speaking from Among the Bones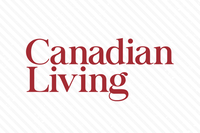 Culture & Entertainment
Saturday Afternoon Book Club – January 2013: Speaking from Among the Bones
Is there anyone out there who isn't in love with
Flavia de Luce
? She's the 11-year-old amateur sleuth in
Alan Bradley
's latest,
Speaking from Among the Bones
(Doubleday Canada, Feb. 2013), the fifth Flavia de Luce novel. [caption id="attachment_14520" align="aligncenter" width="300"]
Meet Alan Bradley, my new favourite author. Photo, Jeff Bassett.[/caption] Actually, if it wasn't for Austen Gilliland, one of our senior editors at Canadian Living, I would never even know about Flavia – or Alan, now two of our favourite people! And so, when we had the opportunity to interview the author, Austen jumped at the chance. So this week, it's a guest post from Austen. Don't you wish I could just stop talking so you could enjoy the interview? I know I do. Go Austen.
BY AUSTEN GILLILAND
Flavia, Flavia, Flavia
I'm a big fan of Flavia de Luce, the 11-year-old heroine of Alan Bradley's delightful mystery novels. She lives at Buckshaw, her beloved but decaying family home, with her widowed father and two older sisters, in postwar England. Flavia is simultaneously clever and innocent, a genius at chemistry (poisons are her passion) and crime-solving – but she still occasionally falls prey to the combined efforts of her older sisters. Flavia's adventures often take her into the nearby town of Bishop's Lacey and the surrounding countryside, and they often make me wish I could jump inside the books. [caption id="attachment_14521" align="aligncenter" width="200"]
Possession of the advance copy of
Speaking from Among the Bones
has been hotly contested around the office.[/caption] It seems that all of Canadian Living loves Flavia! And with good reason: it's another cracking adventure featuring the people and places of Bishop's Lacey. As Flavia investigates the murder of the church organist, she encounters old friends – including the vicar and Detective Inspector Hewitt – and makes new ones, with the arrival of private investigator Adam Sowerby. We're delighted to feature
Speaking from Among the Bones
in our February issue (look for it on newsstands Jan. 7), but we were even more excited about the opportunity to have a brief chat with the author. Read on to find out more about Flavia, upcoming stories (the series was just extended from six books to ten) and the creation of a TV series based on the novels. If you'd like an opportunity to win a copy of
Speaking from Among the Bones
, leave us a comment. And if you just can't wait, you can
preorder a copy right here.
Q:
Speaking from Among the Bones
finds Buckshaw and its inhabitants on the cusp of great change. The family's financial crisis is deepening, there's a wedding on the horizon – and Flavia is changing, too. She's still only 11, and still has a certain childish understanding of the world and human relationships, but she's also maturing: at times her relationship with her sisters is downright civil. How do you balance the need to show Flavia gaining understanding of the ways of the world with the desire to maintain her youthful idealism and enthusiasm?
A:
"Cusp" and "balance" are precisely the right words. Flavia teeters on that razor-sharp edge between innocence and knowing. From that vantage point, although she's had glimpses of what might be involved in becoming a responsible adult, she's not necessarily happy about it. At that same moment in time, England, too, is on a cusp as wartime gives way to the uncertainties of the future. But as Flavia is discovering, being on edge sharpens the senses remarkably, and that idealism and energy might well be the true gifts of the gods.
Q:
In other interviews, you've mentioned Flavia's origins as "the girl on the camp stool" who appeared partway through another book you were working on and promptly hijacked the proceedings, so it was fun to find her, early in
Speaking from Among the Bones
, sitting on a camp stool at the front door of Buckshaw, observing the arrival of Adam Sowerby, flora-archaeologist and investigator. By the end of the book, she seems quite taken by Mr. Sowerby. Is he from that earlier story, and will we be meeting him again?
A:
You're very observant! Yes, the meeting of Adam and Flavia in the fifth book is exactly as it first appeared in my original story. It's the precise moment in which Flavia walked onto the page from wherever she used to dwell and into my life. Adam will reappear in
The Dead In Their Vaulted Arches
. And just between you and me and the gatepost, he, too, seems to be demanding his own book.
Q:
One of the things I enjoy about the Flavia books is that they're a window into a bygone era. You've mentioned that the England you're writing about in the novels is, in some ways, idealized, but I wonder: How much research do you do to get the details right when it comes to specifics like the travelling puppet shows and the cine-films (and the chemistry!)?
A:
When I was a gangly kid in Grades 7 and 8 at the George Street Public School in Cobourg, Ont., I had the great good fortune to be taught by the remarkable Carman Sarles, who, among his many other gifts, was a puppeteer of professional calibre. I've never forgotten the arts and crafts he instilled in his students, so that the puppetry in
The Weed That Strings the Hangman's Bag
came pretty well from my own experience and later studies, readings and researches. I also owe a great debt to my friend Waltraude Stehwien, of Saskatoon, Sask., who, as a girl, was a professional puppeteer in prewar Germany, and has so generously shared her personal experiences. The cinema detail, too, is drawn from my own life. In earlier days I moonlighted as a theatre projectionist by night, while making television and film by day. Which leaves the chemistry: a subject of which I am proud to claim a vast ignorance. I was delighted to find that Flavia was so keen on the subject, since it allowed me to come at it with fresh eyes, and gradually to begin sharing her burning enthusiasm.I revel in the research phase of writing a novel, and I now count as golden the many hours I've spent ploughing through all those dusty and obsolete chemical texts. Fortunately, I've made friends with a number of dear people such as Leigh and Evelyn Palmer, of Vancouver, whom I had the good fortune to meet on an airplane, and who are both not only highly qualified in chemistry, but who never seem to tire of being bombarded with the most outrageous questions.
Q:
Speaking from Among the Bones
ends with a whopper of a cliffhanger. How long will we have to wait to find out what happens next?
A:
Until early 2014 when
The Dead In Their Vaulted Arches
, the sixth book in the series, is published.
Q:
The Flavia de Luce series has been extended from six books to 10 – congratulations! What kind of impact do you think this will have on the series' story arc and the development of the characters? For instance, will we see Flavia age more? (Somehow, she's such a great eleven-year-old that I can't really imagine her as a teenager.)
A:
So much of Flavia's being is her eleven-ness. An older Flavia would be a completely different person and, to my mind, not nearly so interesting. That's not to say that we won't ever have a look at her later life, but that's just one of the infinite possibilities held by the future. Although the first six books are a story arc in themselves, the additional four books will allow exploration of other parts of her world.
Q:
You spent 35 years working in television before taking early retirement to focus on writing. Now the Flavia stories have been
optioned by Sam Mendes
. Will you be involved in the creation of the television series, and if yes, to what extent?
A:
Happily, yes. I met with Sam Mendes this past summer in London to discuss the series while he was in the final editing stages of
Skyfall
. I expect to be involved in such happy aspects of the production as choosing a screenwriter, reviewing the scripts, and having the opportunity to view audition tapes for the various roles. And I've been invited to be on the set if I wish. (If I wish!)
Are you in love with Flavia, too? Leave us a comment and you could win a copy of Speaking from Among the Bones.