Culture & Entertainment
Toronto ice storm: Photos from the trenches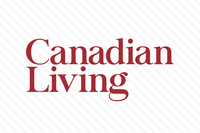 Culture & Entertainment
Toronto ice storm: Photos from the trenches
As you may know, our
Canadian Living
offices are located in Toronto, and just this past weekend, the city was hit with one of the
worst ice storms in its history
. To put it into perspective, here's a photo one of our photographers took of his childhood street yesterday. Who knew ice could cause so much destruction?
While it has been chaotic for the past 48 hours or so, with blackouts, icy streets, closures and frigid temperatures, there has been one silver lining -- the photos. I know it sounds silly, but truly, some of the photos coming through via social media and news outlets have left me stunned. Mother Nature sure is moody, but it's all so beautiful, as well. Here are some shots I have taken over the past 48 hours --
beauty in chaos
.
1. Crystal ice on branches
2. Frozen in time
3. An icy snap
4. The Toronto skyline at sunset
(This photo takes my breath away every time I see it. And the real view doesn't do the photo justice.)
Wherever you are, I hope you're safe and warm. If you're in need of assistance, please call 311 or your local hydro department (for fallen trees/power lines).