Appetizers & Snacks
6 scrumptious takes on the classic nacho
Food styling by Christopher St. Onge | Prop styling my Madeleine Johari Image by: Ronald Tsang
Appetizers & Snacks
6 scrumptious takes on the classic nacho
Nachos were created in the '40s by Ignacio "Nacho" Anaya, the maître d' of a Mexican restaurant, who layered chips, cheese and jalapeño peppers as a makeshift canapé for unexpected guests. As Nacho proved, you don't need a recipe—it's all about a crunchy base, bite-size toppings and finger-licking sauce. We love how easy these snacks come together using a variety of tantalizing flavour combos.
1. Cheeseburger Nachos
All the goodness of a burger on a chip.
Base: Blue corn tortilla chips
Toppings: Shredded lettuce, diced tomatoes, ground beef, shredded Cheddar cheese
Sauce: Secret sauce (Stir together sour cream, relish, ketchup and mustard.)
2. Firecracker Nachos
Pulled chicken with a spicy Asian twist and outrageous crunch.
Base: Baked wonton wrappers (Arrange round wonton wrappers on rimmed baking sheet; lightly brush with olive oil. Bake in 375°F oven until crisp and golden, 5 to 8 minutes.)
Toppings: Spicy pulled chicken, coleslaw, sliced green onions
Sauce: Teriyaki sauce
3. Poke Nachos
What happens when Hawaii meets Mexico.
Base: Scoop-shape tortilla chips
Toppings: Diced avocado, cooked shelled edamame, sesame seeds, poke tuna (Whisk together 5 tbsp soy sauce, 2 tbsp each sesame oil and packed brown sugar and 1 tbsp grated fresh ginger. Coat 2 cups diced sushi-grade tuna.)
Sauce: Sriracha mayo (Stir mayonnaise with Asian chili sauce.)
4. Fruity Nachos
A new take on peanut butter and apple snacks.
Base: Apple chips
Toppings: Peanut butter, granola, dried fruit, coconut
Sauce: Honey
5. Breakfast Nachos
Everything you crave in an all-day brekkie.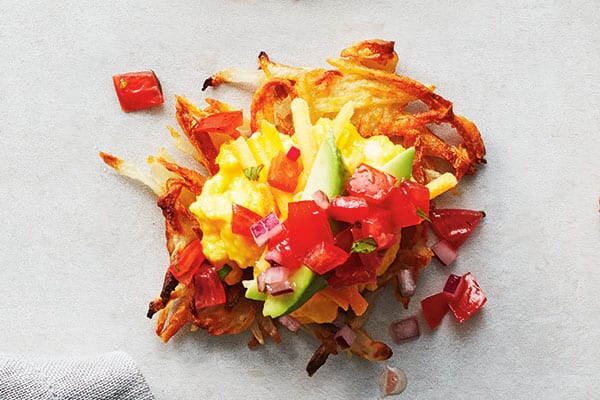 Base: Rösti or hash browns
Toppings: Scrambled eggs, sliced avocado, minced red onions,diced tomatoes, shredded cheese
Sauce: Your favourite red or green salsa
6. Southern Sweet-Heat Nachos
Classic barbecue taste with a fiery maple kick.
Base: Sweet potato chips
Toppings: Pulled pork, shredded jalapeño Monterey Jack cheese, chopped green onions
Sauce: Maple and chili crema (Stir together sour cream or crème fraîche, splash of maple syrup and hint of chili powder to taste.)
Want to make classic nachos with a healthy twist? Check out our recipe for Turkey Chili Nachos.