These wings can get sticky as they bake, so line your baking sheet with greased nonstick foil or parchment paper for easy turning.
Prep time 5 minutes
Total time 50 minutes
Method
In bowl, sprinkle chicken with salt and pepper. Sprinkle with flour; toss to coat. Arrange on lightly greased nonstick foil– or parchment paper–lined rimmed baking sheet. Bake in 400°F (200°C) oven, turning once, until crisp and golden, 45 to 50 minutes.

Tip from The Test Kitchen: Chicken wings that are sold separately and trimmed are a real time-saver. If you can't find them at your local grocery store, cut the tips off of whole chicken wings, then cut each wing in half at the remaining joint.
Makes about 24 pieces.

Change it up:

The Ultimate Crispy Buffalo Chicken Wings
In small saucepan, stir together 1/3 cup cayenne pepper sauce (such as Frank's RedHot Original), 2 tbsp butter, 1 tsp Worcestershire sauce and 1/2 tsp onion powder; bring to boil. Remove from heat; let cool to room temperature. Prepare wings as directed; toss with sauce just before serving.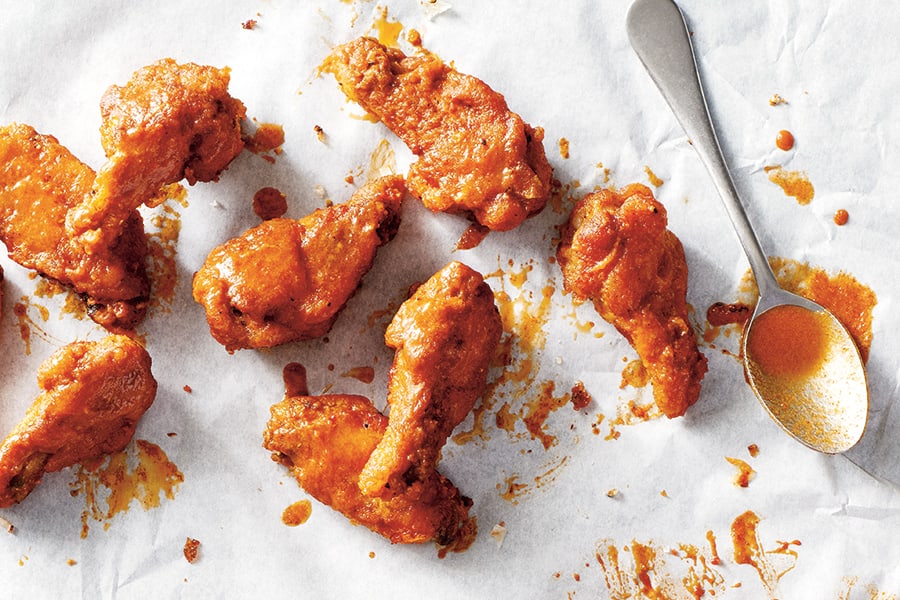 The Ultimate Crispy Barbecue Chicken Wings
In saucepan, stir together 1 cup ketchup, 1/3 cup fancy molasses, 2 tbsp cider vinegar, 1 tbsp Dijon mustard, 1 tsp onion powder, 1/2 tsp garlic powder, 1/4 tsp salt and 1/2 cup water; bring to boil. Reduce heat and simmer, stirring occasionally, until thickened, about 20 minutes. Prepare wings as directed, brushing with sauce before last 5 minutes of baking.

Nutritional facts per piece: about
Sodium 91 mg
Protein 5 g
Calories 61.0
Total fat 4 g
Potassium 42 mg
Cholesterol 20 mg
Saturated fat 1 g
Total carbohydrate 1 g
%RDI
Iron 2.0
Folate 1.0
Vitamin A 1.0