Food
Chocolate-Hazelnut Panettone by La Cuisine d'Hélène
Food
Chocolate-Hazelnut Panettone by La Cuisine d'Hélène
Brought to you by Kenwood
I have never baked or ate a Panettone before. When I was challenged by
Canadian Living
to make a Chocolate-Hazelnut Panettone I could not wait to start. A Panettone is a sweet bread loaf originally from Milan. I have not been to Italy yet and could only imagine the delicious pastries that they bake. As a tradition they usually prepare the Panettone for Christmas and New Year. The
Kenwood Chef Kitchen Machine
that I received is the right tool to use to make this bread. Did I tell you how amazed I am with this machine? It is a mixer, whisker and kneader. When I started baking, years ago, I only had one hand mixer in the kitchen. It's a dream come true to be able to use this machine to save me time in the kitchen. You can also get additional attachments such as a blender or food processor that work right on top of the machine and more attachments for making homemade ice cream or pasta. You can find out more about the Kenwood Chef at kenwoodworld.ca.
You will need a full day to make the Panettone. The first step is to mix the milk with the yeast and let stand for 10 minutes. Once done you will make a sticky dough and let rise in a warm place for 1 ½ hours. Then with the whisk attached to the Kenwood Chef Kitchen Machine beats the eggs with sugar, hazelnut liqueur, vanilla and salt until pale yellow.
This whisk worked really well and it added volume to the mix. In no time it was foamy and had doubled.
The next step is to add the yeast dough and flour to the eggs. Changing out the whisk to the dough hook on the Chef made my life easier because it did all the kneading for me. The result was beautiful, smooth dough.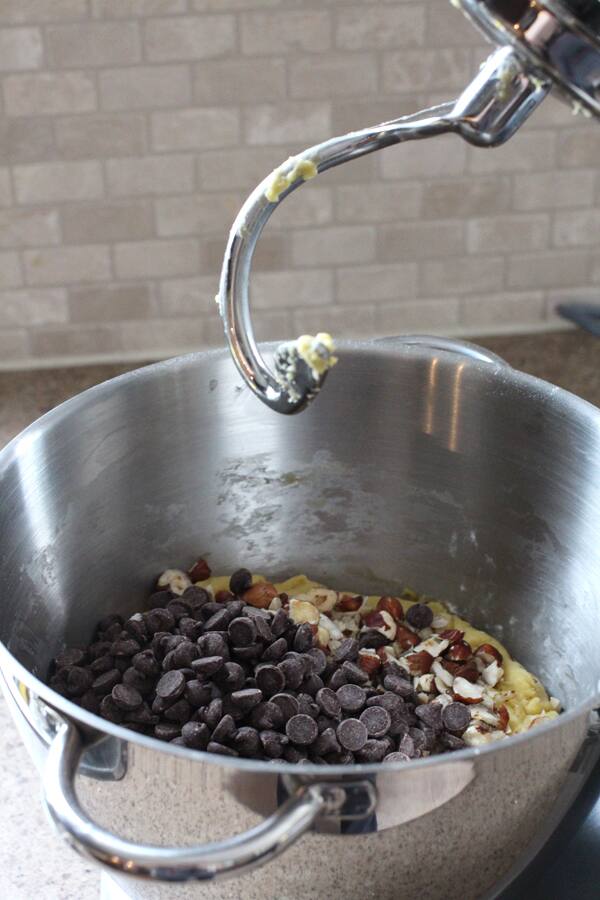 This Panettone recipe has chocolate chips and hazelnuts in it. They are folded in at the end using the dough hook.
Once done, the dough needs another 2 hours to rise, in a draft-free area, until doubled in size. I left the dough in the bowl of the mixer and covered it with plastic wrap. After 2 hours the dough needs to be shaped into a ball and placed into a large Panettone mould for one last rise. I did not have the Panettone mould and used a lunch paper bag. It worked really well. After this last rise all that is left to do is to bake your Panettone. It took 75 minutes for mine to bake. After one hour my husband and son could not wait to taste this dessert. They were impressed by how beautiful it looked. After the first bite they both said that it was very good. They would like me to make more and I gladly will since my Kenwood Chefwill do most of the work for me. I can see now why it's a tradition for the Italians to eat Panettone and it might become mine! Here's the
link for the Chocolate-Hazelnut Panettone recipe
.
Disclaimer:
This is a sponsored post by Canadian Living and Kenwood. There was no requirement to produce a positive review of this recipe. All opinions are my own.
Pictures courtesy of
La Cuisine d'Hélène