Food
Fiddlehead Crostini recipe
Food
Fiddlehead Crostini recipe
Whether you are going into the forest and
harvesting fiddleheads yourself
, or like us here in the
Test Kitchen
, received a case from
NorCliff Farms
, be sure to take advantage of this truly
Canadian spring treat
. The
bright green
colour of the fiddleheads inspired me to whip up this easy and delicious
Fiddlehead Crostini
appetizer. Here's how you make it.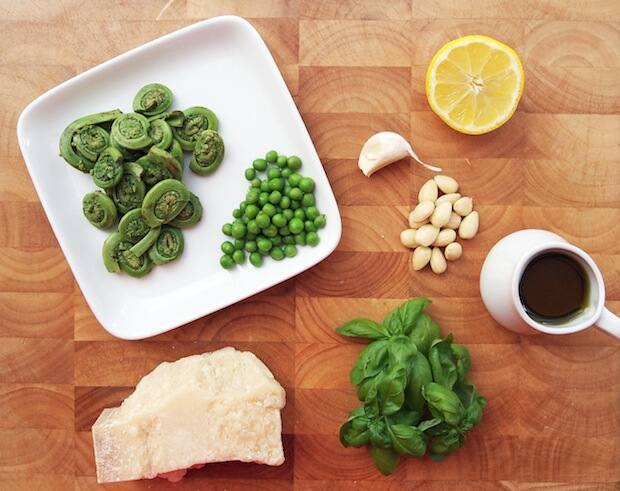 In saucepan of boiling lightly salted water, cook
3 cups
(about 300 g)
cleaned
fiddleheads for 8 minutes, adding
½ cup
fresh or frozen peas during the last minute of cooking. Drain and rinse under cold water; drain again. Add fiddleheads, peas,
¼ cup
blanched almonds and
1 clove
garlic to food processor; pulse until no large pieces remain and texture is grainy. Add
½ cup
grated Parmesan cheese,
¼ cup
fresh basil,
1 tbsp
lemon juice and
¼ tsp
each salt and pepper; pulse until combined. With motor running, add
½ cup
extra virgin olive oil in thin steady stream until smooth. Makes about 2 cups.
Toast
slices of baguette in 425°F (220°C) oven until light golden, about 5 minutes. Top with dollop of fiddlehead mixture, Parmesan shavings and a small fiddlehead (if desired). Enjoy!
Check out our seasonal food guide to fiddleheads here.
Photography by Leah Kuhne