Food
Fun tools for carefree outdoor dining
Food
Fun tools for carefree outdoor dining
Sun-starved Canadians just live for the return of summer. And one of the greatest summer pleasures is dining al fresco - either under the sun or under the stars - for a romantic, casual or elegant affair.
But making sure outdoor eating and entertaining run flawlessly isn't easy: bugs, wind, and melting drinks under the sun make outdoor dining a challenge... until now. Whether you're planning simple hot dogs over a campfire, or a Champagne-toasted garden party, we've rounded up everything you'll need to make outdoor dining a breeze—a soft, cool, summer breeze.

Let there be light!
Lighting is more than just practical. Sure, you've got to see what you're doing while you try to keep the racoons and mosquitoes at bay, but the right lighting also sets the mood.
Hanging Lanterns with Stands
pier1.com
From Pier 1, a traditional choice for backyard lighting. Using a citronella tea light gives you the delicate flicker of candlelight and a mosquito-busting scent too.
Candle Lantern
candlelantern.com
Available in several styles and sizes, these clever lanterns are the answer to smoky tiki torches, candles that blow out again and again or dim solar powered lights. Made of rustproof aluminium and glass, they're lightweight and durable and cute to boot!
Innovage Outdoor LED Lantern
kitchenstuffplus.com
Brighter than most other torches, lanterns or candles, this power-saver will last up to 100,000 hours. With a dimmer switch and fold-down handle, it runs on either batteries or electricity.
Glass Oil Lamp Stakes
pier1.com
Torches by night, garden ornaments by day. Fill the red, clear and blue spheres with oil from the hardware store—look for scented oil for extra ambience.
Easy, breezy table settings
Generally speaking we don't want to bring our Wedgwood out to the patio, unless of course the Queen is coming for tea! Instead, opt for durable plastic or acrylic. Look for brands that are recyclable, made from post-consumer material, or reusable. If plastic isn't you're thing, there's also bamboo and paper, or go one step greener, and set a charmingly eclectic table with second hand dishes and glasses from thrift shops.
Recyclable Stemless Wine Tumblers
govinowine.com
From Go Vino, these wine tumblers feel great in the hand, are washable and reusable and in the end, recyclable.
Antique Pitcher and Tumblers
pier1.com
And from Pier 1, these lovely antique country style jugs, tumblers, and goblets come in green or blue. Made of acrylic, they are dishwasher safe.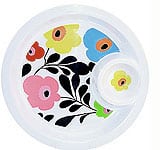 Yokomari Melamine Outdoor Dishware
kitchenstuffplus.com
Partying outdoors? Don't forget the all-important chip and dip set! This colourfully-designed line also boasts matching plates, bowls, and platters. Lightweight, durable, and colourful.
Food umbrellas
kitchenstuffplus.com
Flies and other hungry insects can be a real pest, but these pretty food umbrellas do the trick without ugly-ing up the table.
Page 1 of 3 -- Get the right tools for the job with more fun outdoor cooking utensils on page 2!
The right tool for the right job: Fun outdoor utensils
Here a few gadgets to make outdoor cooking and eating a little easier and more fun.
Grandpa's FireFork
lightmyfireusa.com
Turn any stick into the perfect fork for impaling and roasting hot dogs, sausages, buns, and marshmallows. It's made of stainless steel so it will last a good, long time, and comes with a cover, so it travels safely.
Meat Patty Maker
creativecookware.com
Picture-perfect patties every time! Sure, those boxes of pre-formed burgers in the freezer case are tempting, but they could also have mystery ingredients and perhaps more salt and fat than you need or want. But they fit so perfectly in the bun, you say? True. So mix and season your own, and make it easy with this gadget.
Butter Boy and Butter Girl
talismandesigns.com
If I eat lots of butter, but I use something this cute, then it has no calories, right? A gal can dream, can't she? But truly, it is a neat way to butter a summer favourite—corn on the cob.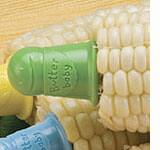 Corn Picks
talismandesigns.com
So you've managed to cleanly apply copious amounts of butter to that cob, now keep your fingers grease-free with these matching corn picks. They interlock so carting them about is safe and pairs won't get separated.
Chill out!
Keeping foods and drinks cool is always challenging, but we've found a few new and innovative solutions.
Hamilton Beach Thermal Cooler Plus 10 Speed Blender
hamiltonbeach.ca
This is really cool! The grab and go thermal outer casing slides over the blender beaker, locks into place, and you're off, ice cold smoothies or margaritas in hand! The thermal sleeve—which features an easy pour spout—will keep contents cold for up to 8 hours.
Ice Bags
ice-gab.co.uk
What a fantastic idea! Light and foldable, these ice bags will make lugging around heavy, space-gobbling buckets a thing of the past. And just imagine, if you're picking up wine en route to the party, you can chill as you go!
Galvanised Steel Tub
homedepot.ca
This sexy red number is from Home Depot, but just about any hardware or garden shop will have something like it. Coloured or plain steel, they look great all frosty on the outside, full of ice, wine, beer, pop, and juice. Just remember, they're going to drip condensation, so be careful of what surface you place it on.
BlinQ Wine Chiller
thewineestablishment.com
When the table has to look perfect, this wine cooler is just the thing. It runs on batteries or electricity, is easy to clean and use, and chills a bottle of wine in a mere 7 minutes.
Wine Sleeves
trudeaucorp.com
For cool wine under the summer sun, just pop this insulated, gel-filled bottle sleeve into the freezer for a few hours, then slide it over the bottle. It's light-weight, stylish and reusable.
Not Hot Wine Glass Coolers
nothot.com
These fun little jackets will zip up over wineglasses—regular to large size—or a champagne flute. Not only does it help keep the contents cool, it also makes the glass less slippery, and therefor safer, should you be sipping poolside.
Ahhhhh
.
Vacu Vin Rapid Ice Cooling Carafe
findgift.com
Not just for wine, it's small, attractive, and works with two low-tech freezer packs. It'll quickly cool a room temperature bevvie and keep it that way for hours.
Page 2 of 3 -- On page 3, find more inventive products to keep the foods you love warm, PLUS, perfect picnic baskets.
Keep it cosy
Okay, so we've got keeping things cold taken care of, what about keeping things warm? From after dinner coffee to an after-dark dip in the lake, here are a couple of ways to warm up.
Hamilton Beach Stay or Go Thermal Coffeemaker
Sears.ca
Serving coffee on the back deck or dockside? This programmable, 10-cup coffee maker will drip a perfect brew right into the thermal carafe. When it's done brewing, bring the pot to the great outdoors and the coffee will stay warm for up 4 hours. Two travel mugs are also included.




Tip
: Here's a really thoughtful touch. If you're planning an intimate dinner for two or four, that you expect might go on into the wee hours, drape a cosy throw onto the back of each chair.
Lee Valley Tools Traditional Turkish Grill
leevalley.com
Hand crafted in Turkey from recycled metals, this copper and wrought iron stunner doubles as a fire pit. Check municipal regulation in your area.
Napoleon Patio Heaters
sobies.com
An easy way to squeeze more out of summer. With one of these propane babies in the yard or on the deck, enjoying summer nights can start as early as April and last through to October.
Tip:
If you need a little extra heat for just one night, check your local 411 directory, as most party rental companies rent patio heaters, and just about anything else you might need, for that matter.
Love is in the air: Picnic baskets
There are simply dozens of picnic baskets and backpacks for two on the market—in the shops and online. Here are a couple we really like.
Malibu Rivera Backpack
winepicnicbaskets.com
This attractive carrier made of woven polyester, is insulated with a waterproof interior for spills and easy clean up. It features a divided wine section for two bottles and a removable liner in the food storage area. Inside you'll also find: a couple of acrylic tumblers, two cotton napkins, two melamine plates, a stainless steel corkscrew, wood cutting board, stainless steel cheese knife, and stainless steel knives and forks (two each). The backpack design lets you hike comfortably to the perfect spot, no matter how remote!
Eco Basket for Two
winepicnicbaskets.com
Love the planet too! Constructed from 100 per cent natural and renewable resources, this beautiful, hand woven willow basket comes complete with bamboo plates, cutting board and utensils. The interior cotton lining is dye and chemical-free, as are the cotton napkins, and the wineglasses made from recycled glass.
Glass Hummingbird Feeder
pier1.com
And as for sharing a little love, you're not the only one who enjoys dining al fresco. Include your fine-feathered friends, with this beautiful feeder, which is a stunner in the yard or hanging from the porch roof.
Page 3 of 3 -- Check out the top tools for backyard entertaining on page 1.