I don't think you're ready for this gelling, but continue reading and you will be!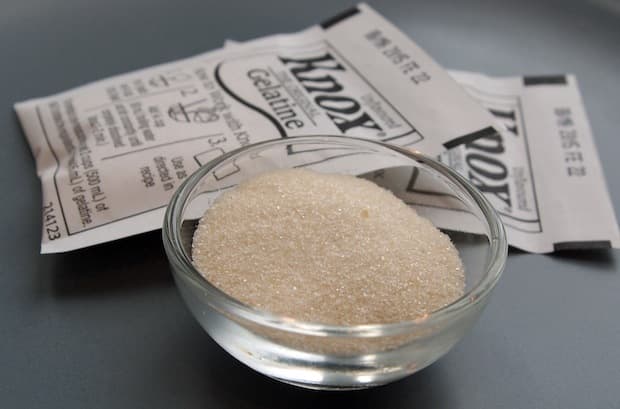 Gelatin is a
protein
extracted from the tendons, ligaments and tissues of animals. It is most commonly found as granules (above) or sheets. In either form, gelatin needs to be
softened
and
dissolved
before using. Gelatin is typically used to set jellies, mousses, panna cotta, marshmallows and some cheesecakes, perfect for the summer! 1 packet usually contains 1 tbsp of gelatin, and sets about
2 cups
of liquid. Here's how to use it.
1}
Sprinkle
gelatin over the surface of cold or room temperature (but not hot) water.
2}
Let stand for a few minutes, until gelatin starts to soften and the mixture is
slightly thickened
.
3}
Heat mixture over low heat until
dissolved
, about 2 minutes. Now the gelatin is ready to use in your recipe, like these
Buttermilk Panna Cotta with Macerated Strawberries
, a great way to enjoy the upcoming strawberry season!
If you are looking for a
vegetarian option
, try agar-agar or carrageenan (both derived from seaweed and can be found at heath food stores) or some Kosher brands of gelatin. Just read the instructions as the setting power may be different.
Photography by Leah Kuhne (top 4), Jeff Coulson (bottom)