Food
Make it, share it: Canoe Paddle Doughnuts by Helene Peloquin
Food
Make it, share it: Canoe Paddle Doughnuts by Helene Peloquin
Brought to you by Lysol
During the long weekend I made these
Canoe Paddle Doughnuts
at home. My family enjoyed them with melted butter, cinnamon and sugar. I tried one with Nutella and sliced bananas and it was delicious. Don't be afraid to try this recipe and reward your family with this sweet dessert!
1- In a small bowl, dissolve 1 tbsp of the sugar in milk. Sprinkle in yeast: let stand at room temperature for 10 minutes.
2- In a medium bowl, whisk the eggs, oil and remaining sugar. Add the yeast mixture.
3- In a large bowl, whisk together 2-1/4 cups of the all-purpose flour, the whole wheat flour and salt. Add the egg mixture and stir well using a wooden spoon. Cover with plastic wrap and let rise, in a warm draft-free place for about 2 hours.
4- Scrape dough onto lightly floured surface. The dough will be very sticky, knead in remaining flour until dough comes together. Knead about 15 to 20 times.
5- Place parchment paper on a cookie pan. Divide the dough into 12 pieces and shape, by hands, into flat ovals. Cover with a plastic wrap sprayed with PAM or a tea towel and let rest for 30 minutes.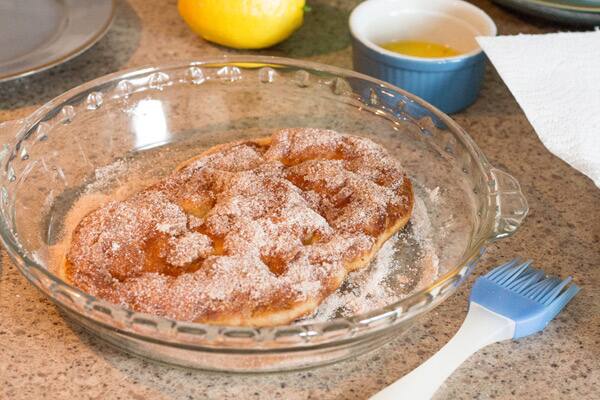 6- In a deep saucepan, pour oil to come about 2 inches up side and heat until a deep-fryer thermometer registers 375F. Take one piece of dough and gently stretch out dough with hands to scant 1/8 inch thickness. Deep-fry canoe paddles, turning after 30 seconds with tongs. Fry for another 30 seconds for a total of 1 minute. Take out the canoe paddle with tongs and let rest of a paper towel place into a plate. To prepare the Cinnamon Sugar Topping, mix the sugar and cinnamon into a large shallow dish. Once the canoe paddle have rest 2 minutes on the paper towel, brush melted butter on top and place the top onto the sugar mix. Press firmly and turn to coat on both sides.
7- Enjoy these
Canoe Paddle Doughnuts
while still hot and serve with lemon wedges. Check out this recipe and other Make it, share it recipes
here
!