Food
Make it, share it: Canoe Paddle Doughnuts
Food
Make it, share it: Canoe Paddle Doughnuts
Brought to you by Lysol
These
Canoe Paddles Doughnuts
by
Canadian Living
are
so
good! They're such a great treat and make for a great snack, especially when you're taking a break from skiing. The
Canadian Living
version is so good that I don't think I could tell it apart from the stores'!
First up, I heated the milk in a small saucepan and added in the sugar. Stir the sugar until it's dissolved and remove from the stove. You do not want the milk to simmer, boil, or burn, that's too far. Just a bit of heat to help the sugar dissolve and the yeast to activate.
Transfer the warm milk and sugar mixture to a large bowl.
Add in the active dry yeast.
In a separate bowl, whisk together 2-1/4 cups of the all-purpose flour (remember, this isn't the full amount of flour in the recipe), the whole wheat flour, and salt. Set aside.
Whisk eggs, oil, and remaining sugar into the yeast mixture.
Using a wooden spoon, stir in the flour mixture until combined. There shouldn't be lots of dry clumps of flour, make sure it's all combined. Then, cover with plastic wrap and let the dough rise in a warm draft-free place.
The dough should doubled in about 2 hours. I marked the
before
and
after
with pink post-it notes so you can see the difference.
Take the dough out and knead in the remaining 1/4 cup of flour just until dough comes together. The dough should still be sticky, so if you feel that it doesn't need any more flour, don't incorporate it. Divide the dough into 12 pieces. Shape the dough into flat ovals, place them and cover with a tea towel, and let it rest for 30 minutes.
Next, you want to gently flatten the dough so that it's nice and thin. On the left, the rested oval dough. On the right, the flatten "canoe paddle" shaped dough. If you reach this point and you're unsure about how the dough should look or how to deep fry the dough, I highly recommend that you watch the
how-to video
.
In deep saucepan filled with vegetable oil about 2-inches high, heat the oil until your thermometer registers 375ºF (190ºC). Deep fry the doughnuts for 30 seconds on each side. A tong is super useful, you can even gently hold the dough down so that it obtains an even golden colour all around.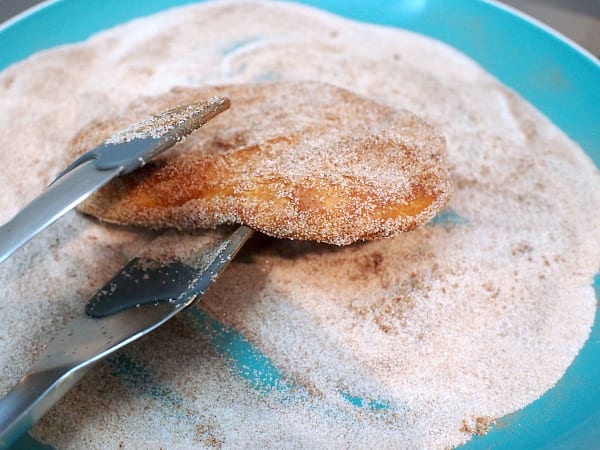 Transfer the doughnut to a paper towel to soak up the excess oil. Brush the top with butter and place the buttered side down into the cinnamon sugar mixture.
Serve with lemon wedges, don't skip this part! The lemon is crucial for your ability to keep eating these delicious doughnuts. It gives you just the right amount of tartness to go with the cinnamon sugar.
Share
your Canoe Paddle pics with @canadianliving on Twitter, Facebook, and Instagram with the hashtag #CLIMadeIt.
Images courtesy Sylvia Chan, A Baked Creation