Food
Test Kitchen Debate - Brownies: Frosted or Unfrosted
Food
Test Kitchen Debate - Brownies: Frosted or Unfrosted
Ahhh...chocolate brownies...swoon... I don't know a single person who doesn't like
chocolate brownies
. Those square shaped treats are a delightful cross between cake and cookie and can lean towards the
fudgy
and dense or light and
cakey
. Of course the age old debate is
frosted or unfrosted
(nuts or no nuts is a whole other conversation). As you can image, we have
strong feelings
on the subject here in the
Test Kitchen
, so I took a poll to see who is in which camp.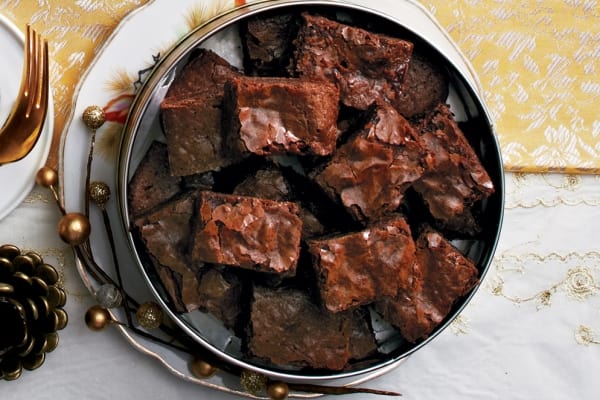 Drum roll please........
Unfrosted is the clear winner!
Unfosted got 5 votes
,
Frosted got 1 vote
and
1 person was Undecided
.
Food Specialist Jennifer Bartoli
was the lone frosted vote. She said she likes frosted brownies when someone else is making them, but if she was making, they would be unfrosted.
Food Specialist Irene Fong
was undecided. She said "If there was a choice between frosted and unfrosted brownies, I would have one of each since I wouldn't be able to choose."
Senior Food Specialist Rheanna Kish
had a good point though. She prefers unfrosted brownies, but could be swayed with a drizzle of melted bittersweet chocolate on top. Generally, our thinking was if the brownie was more
fudgy and dense, no frosting is required
. But when the brownie is cakey, a little frosting makes it just like eating a
small piece of chocolate cake
, which is never bad. Our favourite
fudgy brownie
is
The Best Chocolate Toffee Brownies
above. They are moist and dense with hits of toffee from the candy bars. We also like this
version without toffee
, and if you are looking for a
Peanut Butter Brownie
, try these swirled ones. For
cakey brownies
, we are big fans of the
Chocolate Bar Brownies
, with the ganache frosting with chocolate bar pieces on top. You also can't go wrong with a
peanut butter frosting
or these
German Chocolate Brownies
(below) with their thick frosting of coconut and pecans that brings the classical cake down to a bite-sized treat.
For something a little different, try these
red velvet brownies with cream cheese frosting
. The
love-birds
on top make them super cute! And if you want a brownie with just a
hint of frosting
, try these
Tartan Brownies
with their cream cheese drizzle. Of course, we also have a
super fudgy gluten-free option
that will not disappoint.
Tell me: Do you prefer frosted or unfrosted brownies?
Photography by Jeff Coulson (top), Ryan Szulc (bottom).