Baking & Desserts
Sticky, sweet honey dessert recipes
Photography by Jeff Coulson Image by: Photography by Jeff Coulson
Baking & Desserts
Sticky, sweet honey dessert recipes
Honey Pecan Pie
How can you make a classic dessert like pecan pie even better? Swap out the corn syrup with sweet, natural honey. You'll love the subtle difference in flavour.
Photography by Jeff Coulson
Honey Rhubarb Cobbler
Take advantage of rhubarb season by making this tart cobbler. Sweeten it up with fireweed or wildflower honey.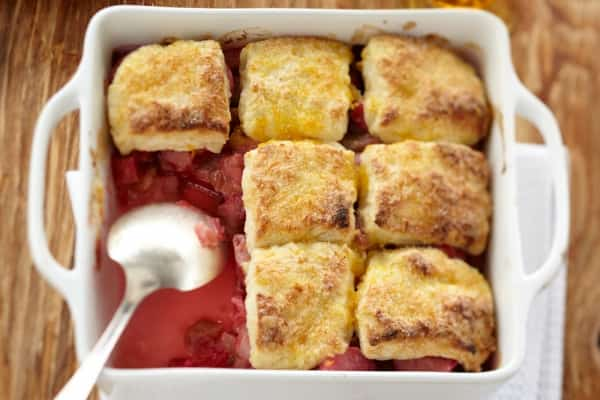 Photography by Joe Kim

Honey-Baked Plums With Gingersnaps
Sugar and spice makes everything nice in this rustic baked dessert. Can't find gingersnaps? Try graham crackers instead.
Photography by Jeff Coulson

Honey-Caramel Apple Bundt Cake
This easy, moist cake is taken to the next level with homemade honey-caramel sauce. Drizzle it generously overtop and watch the crowd go wild.
Photograpghy by Jeff Coulson

Honey Cream With Vanilla-Roasted Figs
This is your chance to use flavourful honey straight from the farmers' market, a perfect complement to the figs in this pudding-like dessert.
Photography by
Jeff Coulson
Blueberry and Honey Ricotta Trifle
Lighten up your traditional trifle with ricotta instead of custard or cream. Honey sweetens the cheese and the ginger syrup.
Photography by Joe Kim

Pear Frangipane Tart
Have some pears that are at their peak? Turn them into this rustic tart with ingredients you already have in your pantry.
Photography by Jeff Coulson
Want more delicious dessert ideas? Try our
lovely lemon desserts.