Whipping hot sugar into foamy egg whites yields the glossiest, stiffest meringues that hold their shape while baking and have a crisp but chewy texture.
Prep time 20 minutes
Total time 4 hours & 30 minutes
Method
Spread sugar onto parchment paper–lined rimmed baking sheet. Bake in 400°F (200°C) oven just until beginning to turn golden but not hard or melted, about 8 minutes.

In stand mixer with whisk attachment, beat egg whites until foamy. With stand mixer on high, lift corners of parchment paper to gradually pour in hot sugar; continue beating on high until mixture has cooled and is stiff, glossy and very thick, about 10 minutes. Beat in vanilla.

Drop by generous 1/2 cup, 2 inches (5 cm) apart, onto parchment paper–lined rimless baking sheet. Bake in 200°F (100°C) oven until crisp and no longer shiny, about 3 hours. Let cool in oven for 1 hour. Remove from oven; let cool completely. (Make-ahead: Store in airtight container for up to 2 weeks.)
Makes about 8 pieces.

Change it up: Giant Candy Cane Meringues
Substitute vanilla with 3/4 tsp peppermint extract. Fold in 3 tbsp crushed candy cane pieces until combined. Arrange on baking sheet as directed. Sprinkle with 1 tbsp crushed candy cane pieces. Continue with recipe as directed.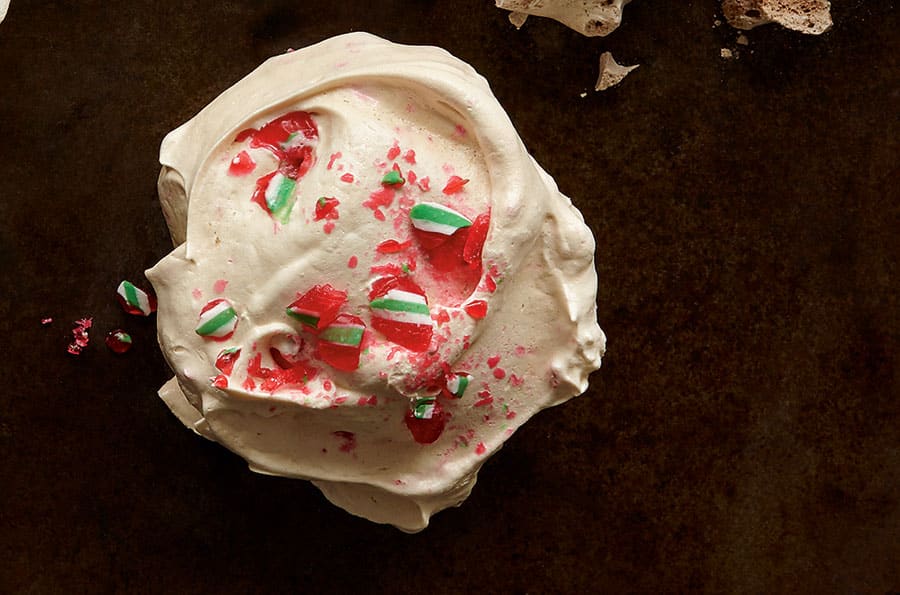 Giant Chocolate Meringues
Follow first 2 paragraphs as directed. Sift in 1 1/2 tbsp cocoa powder; fold just until large cocoa streaks are still visible, about 2 to 3 times. Continue with recipe as directed.

Nutritional facts per piece: about
Fibre 0 g
Sodium 33 mg
Sugars 38 g
Protein 2 g
Calories 155.0
Total fat 0 g
Potassium 28 mg
Cholesterol 0 mg
Saturated fat 0 g
Total carbohydrate 38 g