Collections
10 things to cook in April
Bourbon, Banana and Coconut French ToastPhotography by Jeff Coulson Image by: Bourbon, Banana and Coconut French Toast</br>Photography by Jeff Coulson
Collections
10 things to cook in April
Springtime Spaghetti alla Carbonara
Shaved asparagus makes this carbonara perfect for the spring, and crunchy lemon breadcrumbs give it a burst of fresh flavour!
Photography by Jeff Coulson
Bourbon, Banana and Coconut French Toast
Coconut gives this French toast a pleasing crunch and topping it with bananas
cooked in bourbon
makes this classic simply irresistible.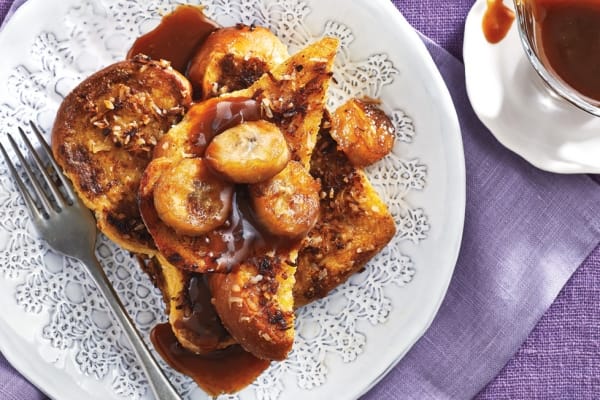 Photography by Jeff Coulson
Sautéed Fiddlehead and Mushroom Gnocchi
These little Italian dumplings get a flavour boost with fresh fiddleheads and
shiitake mushrooms
. The fiddlehead season is very short, so take advantage while you can!
Photography by Joe Kim
Caramelized Spring Onion and Gruyère Tart
Caramelized onions are delicious on their own, but baked in a crispy crust with cream and
plenty of Gruyère cheese
, they're even more tasty!
Photography by Jeff Coulson
Rhubarb Almond Crumble Squares
Looking for ways to use up rhubarb? A pretty pink rhubarb filling gives these date squares a tangy-sweet twist.
Photography by Jeff Coulson
Lemon Pistachio Meringue Crunch
Impress your guests with this stunning lemon and pistachio crunch cake. The best part? It can be made ahead and put in the fridge for whenever your guests want a slice.
Photography by Jeff Coulson
Sautéed Spring Asparagus and Mushrooms
This quick and easy side dish captures the fresh flavours of spring, perfect for any weeknight or large family gathering. It also makes a
tasty salad
addition to your lunch the next day.
Photography by Jeff Coulson
Pineapple Glazed Ham
Serve a crowd with this classic springtime roast. The leftovers, thinly sliced with a little Dijon mustard,
Swiss cheese
and whole grain bread, make for a delicious sandwich!
Photography by Steve Krug
Twin Peas with Roasted Garlic Butter
Snap peas and green peas come together in this springtime side dish.
Roast the garlic
ahead of time and then the dish will come together in just few minutes!
Photography by Steve Krug
Roast Leg of Lamb with Caramelized Onion Gravy
Spring is the perfect time of year for a beautiful roasted leg of lamb. A rich gravy and
rosemary-studded meat
makes this roast the centrepiece of any meal.
Photography by Jeff Coulson
Still hungry? More great recipes to try:
Easy recipes for leftover Ham, Lamb and Turkey
Holiday roasting chart for Turkey, Ham, Beef and Goose
12 Easy Easter Side Dishes
If you're looking for more Spring-inspired dishes? Try our
Impressive Easter brunch entrées
.