Collections
10 things to cook in June
Grilled Korean Beef Ribs
Photography by Jeff Coulson/TC Media Image by: Grilled Korean Beef Ribs <br />Photography by Jeff Coulson/TC Media
Collections
10 things to cook in June
Host a backyard cookout for
Father's Day
and make Dad all the favourites: ribs, steaks and burgers. Savour as many
fresh-from-the-field strawberries
as possible. Sip a
refreshing cocktail
on the longest day of the year, or simply enjoy the warmer weather.


1.
Slow-Roasted Caribbean Ribs
A spicy dry rub gives these pork ribs their island flavour. Cook them on the grill or in the oven until tender, and serve with a refreshing pineapple relish.
Photography by Jeff Coulson
2
.
Grilled Korean Beef Ribs
If beef is more your style, these thinly sliced and super-flavourful ribs are perfect. The key to their tenderness is marinating, and the short grilling time.
Find out how to make the most tender ribs!
Photography by Jeff Coulson
3.
Steakhouse Rib Eye with Béarnaise Sauce
Treat Dad to this steakhouse classic at home. Look for good-quality dry-cured steaks with lots of fat marbling. The béarnaise sauce is also delicious drizzled over
grilled asparagus
.
Photography by Jeff Coulson
4
.
Cilantro-Jalapeño Grilled Tofu Salad
The herby and slightly spicy dressing, and the char from the barbecue, give this tofu a delicious flavour.
Photography by Jeff Coulson
5.
Cedar-Planked Salmon with Maple Mustard Glaze
This 5-ingredient, classic Canadian dish is easy to prepare and serves a crowd. Together, the maple syrup and mustard make a delicious sweet and tangy glaze.
Photography by Jeff Coulson
6.
Butter Chicken Burgers
When you tire of beef, try this Indian-inspired dish.
Quick pickled onions
make the perfect topping for these flavourful burgers.
Photography by Jeff Coulson
7.
Garden Martini
Delight guests with this simple-to-make big-batch cocktail. The subtle herb and spice notes in the aquavit pair perfectly with the fresh cucumber and dill. A touch of sweetness from the white grape juice makes this an easy-sipping cocktail.
Photography by Yvonne Duivenvoorden
8.
The Ultimate Strawberry Jam
Capture the flavour of just-picked strawberries with homemade jam. The secret, and why this is the 'ultimate,' is the vanilla bean: It enhances the strawberry flavour. Be sure to get light pectin, as sugar amounts vary depending on the type of pectin.
Photography by Jeff Coulson
9.
Strawberry Cheesecake Turnovers
Use puff pastry to make these sweet and creamy turnovers. They're easy to transport, making them the perfect treat to bring to a
summer backyard potluck
.
Photography by Yvonne Duivenvoorden
10.
Saucy Strawberry Cake
Baking strawberries in the oven deepens and enhances their flavour. Topped with a moist, orange-scented cake, this is an irresistible way to enjoy strawberries.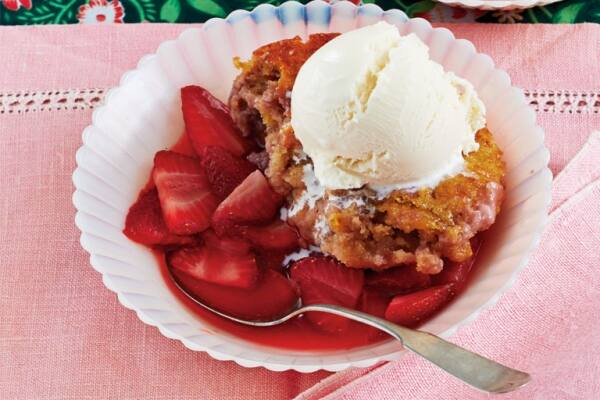 Photography by Jeff Coulson
Inspired? Check out more
mouth-watering strawberry recipes here
.