Collections
20 ways to use up leftover herbs
Grilled Rosemary-Mustard ChickenPhotography by Jeff Coulson/TC Media Image by: Grilled Rosemary-Mustard Chicken</br>Photography by Jeff Coulson/TC Media
Collections
20 ways to use up leftover herbs
We've all been there. You buy beautiful, fragrant fresh herbs for a special dish and only use a tablespoon's worth. Then, you're left with a big bunch of
mint
that you have to use up quickly or it'll go to waste.
Sure, you could
swap out fresh herbs for dried
, but this could be a great excuse to try recipes that really hinge on the flavour only fresh herbs deliver.
If you're wondering what else you can make with a bunch of cilantro or rosemary, we've got lots of great ideas for you.
How to make fresh herbs last
If you don't plan to use fresh herbs up quickly, you can extend their life by wrapping them in a damp paper towel and placing them in a plastic bag before storing in the fridge. Just don't forget about them!
Mint
Lamb Chops With Mint Gremolata and Baby Potatoes
Gremolata is an Italian herb sauce traditionally made with parsley, garlic and lemon zest. Replace the parsley with mint for a tasty topping that pairs well with lamb.
Photography by Jeff Coulson
Spring Pea and Mint Soup
Time to clean out your crisper! This recipe does double herb duty, as it calls for mint leaves, plus fresh chives.
Photography by Jeff Coulson
Sparkling Mojito
Extra mint is an excellent excuse to mix up a batch of Sparkling Mojitos. Not that you need an excuse….
Photography by Jesse Brioux
Fresh Mint Jelly
When mint is taking up too much territory in your garden, preserve it and save all that zippy flavour for a cold winter night or
spring lamb
. It's a fun addition to a
cheese plate
and great mixed into a
vinaigrette
.
Photography by Edward Pond
Basil
Classic Pesto
This quick sauce can save the day on busy weeknights. It's delicious on pasta, pizza, meat or a tasty veggie sandwich.
Photography by Edward Pond
Chicken Ratatouille With Lemony Basil Polenta
Give creamy polenta a fresh boost with fragrant basil and lemon. You can top this dish with basil, too, for even more flavour.
Photography by Jeff Coulson
Seared Cherry Tomato Pasta
This fast recipe is great to have on hand when you have fresh basil and tomatoes because the rest of the ingredients are pantry staples. You can also toss in fresh oregano or shrimp.
Photography by Jeff Coulson
Cilantro
Cilantro-Jalapeño Grilled Tofu Salad
This spicy dressing is great on salad, but it really shines on grilled tofu, chicken and fish.
Photography by Jeff Coulson

Chicken Cutlets With Cilantro Peanut Sauce
Make this sauce today and refrigerate for up to two days before serving it over pan-fried chicken cutlets.
Photography by Jodi Pudge
Grilled Radishes With Creamy Cilantro Dip
When life gives you cilantro, make a delicious creamy dip. The dip is great with grilled radishes, but feel free to serve it with a
bevy of grilled veggies
.
Photography by Yvonne Duivenvoorden
Rosemary
Grilled Rosemary-Mustard Chicken
A little rosemary goes a long way in this juicy chicken recipe. Serve with rice and a simple salad.
Photography by Jeff Coulson
Parmesan Rosemary Chicken Wings
These wings are baked, not fried, which means less mess and oil but all the flavour of your favourite game-day snack.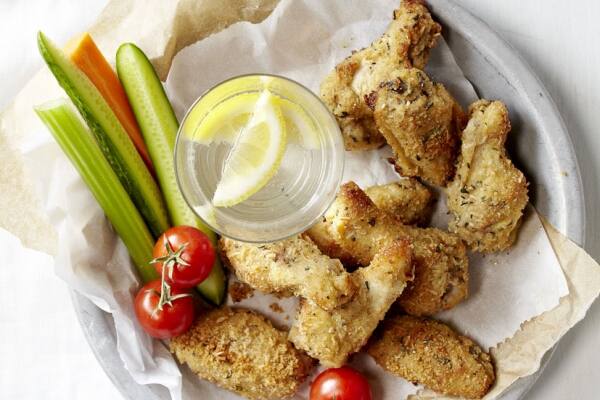 Photography by Jeff Coulson
Lemon-Scented Rosemary Walnut Shortbread
Trust us on this one: The savoury flavour combo of these light cookies is quite delicious. Be sure to chop the rosemary very fine so the flavour mixes well in the dough.
Photography by Ryan Szulc
Thyme
Roasted Lemon and Thyme Chicken With Carrots and Potatoes
A little fresh thyme makes a huge impact on the flavour of this dish, adding a boost to both the roasted chicken and the vegetables.
Photography by Edward Pond
Romaine Salad With Lemon Thyme Vinaigrette
When you want to serve something a little lighter than a
classic Caesar salad
, try this herb-filled vinaigrette.
Photography by Ryan Brook

Roasted Root Vegetables With Thyme
You can't get much easier than this. Simply toss the root veggies with herbs, oil and vinegar, then bake.
Parsley
Chive and Parsley Mashed Potatoes
Make your potatoes even more yummy with fresh parsley and chives. If you like, you can make this dish ahead of time for a holiday or a celebration.
Photography by Ryan Brook
Grilled Vegetables With Chimichurri Sauce
Empty your crisper with this herb-filled dish that uses fresh mint, parsley and basil for a deliciously fresh chimichurri sauce. For extra flavour, brush a bit on your veggies before grilling, then serve the rest on top.
Photography by Jeff Coulson
Chives
Potato, Cheddar and Chive Soup
Cheddar and chives pair beautifully. Throw some potato into the mix and you have a warm, filling dish.
Photography by Joe Kim

Chive and Garlic Cheese Spread
An easy way to use up chives and parsley is to mix them into a tasty cheese spread. Serve with crackers, warm biscuits or fresh berries.
Photography by Jeff Coulson
Love fresh herbs?
Try growing them yourself.