Collections
5 pantry essentials for last-minute dinners
Fruity Tuna Salad PitasPhotography by Ryan Brook Image by: Fruity Tuna Salad Pitas</br>Photography by Ryan Brook
Collections
5 pantry essentials for last-minute dinners
Cooking doesn't have to be complicated or involve many ingredients. Sometimes the best dishes are the simplest ones that come together with barely a thought and in no time. I often turn to a dish my grandmother made -– cooked egg noodles tossed with butter, cottage cheese (or sauerkraut) and lots of fresh cracked pepper – when I haven't done groceries for a while and the cupboards look bare. Easy-peasy… and so good.
The key to pulling off last-minute dinners from seemingly nothing is to always have a good stock of a few goods in your pantry. This way, with a little creativity and some dressing up with one of
these essential condiments
, you'll have dinner on the table in no time. And who knows? The new dish might become a mealtime tradition!
Here's a list of the Test Kitchen's top pantry essentials that help make dinner appear out of thin air (in no particular order):
1. Canned tuna (or salmon).
Whether you prefer oil-, or water-packed cans, tuna can be transformed into
a creamy sandwich
, tossed with pasta, stirring into a salad, thrown in a wrap, made into these
ooey gooey tuna melts
or fried up as quick fish cakes.

2. Dry pasta.
Stock up with a few different shapes and styles when pasta is on sale for endless dinner options. The classic Italian dish,
Spaghetti With Amatriciana Sauce
comes together in literally minutes with very few ingredients. Or try a
stove-top mac and cheese
, or this
quick pasta toss
.
3. Canned tomatoes.
For this
Simple Tomato Sauce
, as the base of this delicious
slow cooker Moroccan Tomato Soup
, or the ingredient that pulls a
quick skillet dish
together, canned tomatoes are a must-have ingredient in any pantry. Choose whole tomatoes and chop, dice or puree them as needed depending on what the recipe calls for.

4. Canned beans.
Use beans to boost protein and make a filling meal. We love them in
soups
,
salads
and this
quick and delicious brown rice bowl
. Make sure to drain and rinse canned beans before using to get rid of a bit of extra sodium from the canning liquid. Or choose no-salt-added beans and adjust the seasoning (salt) in the recipe.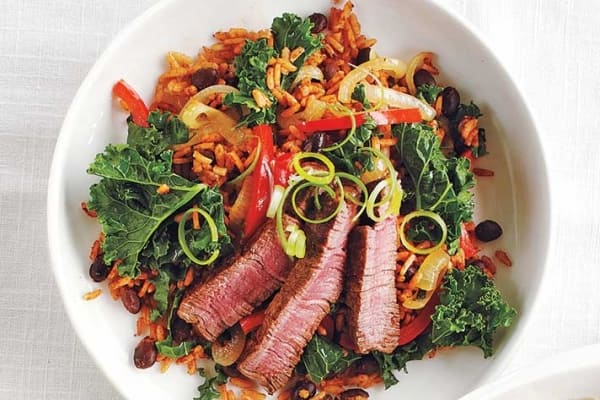 5. Sodium-reduced broth.
Sure it's better to make your own and have it tucked away in the freezer. But in a pinch we love boxed broth (chicken, beef or vegetable) as the start of
quick soups
, to
boost the flavour of the pan sauce in this pork dish
and in
hearty pilafs
. Look at the ingredients and choose the one with the least and most reasonable sounding ingredients. Organic broths are always an option.
For more delicious recipes, cooking tips and inspiring menu ideas,
visit our food channel
.