Collections
9 delicious dessert recipes that will get you excited for Spring
Collections
9 delicious dessert recipes that will get you excited for Spring
From floral layer cakes to humble parfaits, we've got your tastebuds covered with these delightful Spring desserts. Swap that parka for an apron and get baking!
1. Rhubarb Bread Pudding with Honey Creme Anglaise
Toasted buttery croissants take this modest bread-based dessert to new heights.
Amaretto-soaked ladyfingers, fluffy mascarpone cream, tangy lemon curd and sugared almonds—what's not to like about this layered dessert?
3. Rhubarb Cream Cheese Brownies
A sweetened cream cheese swirl ties the unexpectedly delicious combination of chocolate and rhubarb together in these soft, chewy brownies.
4. The Ultimate Brûlée Lemon Tart
You'll need a blowtorch to create the caramelized brûlée top; look for one in kitchen supply stores or certain hardware stores. Refrigerate the tart for at least four hours to ensure the filling is firm enough to slice neatly.
This cake is so divine on its own that we skipped the expected sweet topping, but you can also serve it with fresh or cooked fruit, or a drizzle of chocolate or caramel sauce.
This traditional English dessert, made with stewed fruit and whipped cream, tastes decadent but has a lovely light texture. If fresh rhubarb isn't available, you can substitute the same amount of thawed frozen rhubarb—just thoroughly pat it dry.
Special occasions call for special desserts, and this one fills the bill. Moist lemon cake, a bright lemon custard and a simple lemon icing come together to create the ultimate springtime dessert.
8. Mini Rhubarb Upside-Down Cakes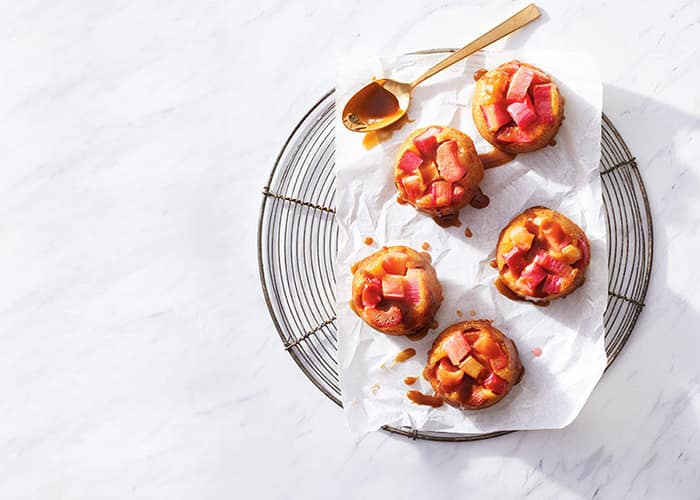 These super-moist little cakes are best served warm. If some of the rhubarb sticks to the pan, just scoop it out and onto the cakes.
9. Angel Food Cake with Lemon Curd and Mascarpone Cream
This classic cake is a sweet ending to a lovely dinner any time of year. If you like, garnish it with curls of lemon rind.