Collections
Exotic food menus
Caribbean Pork Burgers with Mango Salsa Image by: Caribbean Pork Burgers with Mango Salsa
Collections
Exotic food menus
Whether you need to escape a recipe rut, or your palate is dying for new flavours, international cuisine is the answer.
Below are 18
exotic food menus
- inclusive of appetizers, main courses and desserts - from some of the most beautiful places around the world. Shop around and discover a dish you would like to try, or bookmark this page to help you plan delicious theme party menus.
Because each recipe in the menus below was tested and developed by The Canadian Living Test Kitchen, you don't have to worry about hard-to-find ingredients or expensive kitchen equipment to pull them together. Simply plan-ahead as per our directions, and you'll be delighted with how easy it is to master these delicious menus.

Exotic food menus
:
Caribana-inspired menu for 8 - hot! hot! hot!
No matter where you live, Caribana is a great excuse to party. So jump up and gather your friends for this Guyanese-inspired backyard feast.
A taste of the Caribbean
Put on the Bob Marley, set out a platter of pineapple and imagine breezes off the beach. This menu is courtesy of good Jamaican friends, who encourage you to get jammin.'
Cuban cuisine: From Cuba with love
Warm smiles, trays of mojitos, ever-present maracas music and the nose-teasing aroma of grilling pork...such is Cuba.
Cinco de Mayo celebration menu
This make-ahead casual menu gives your guests a taste of Mexico, and gives you time for margaritas. Olé!
Gusto Latino! A getaway menu for 4
Here's a Latin menu that will chase away the winter blues and put lots of warmth and sunny flavours on your table.
Easy Italian recipes for dinner
It's easy to imagine that you're dining in Italy with this collection of authentic Italian dinner recipes.
10 sunny Portuguese dishes
Succulent chicken and seafood-rich recipes that will bring a taste of this country's warm climate to your kitchen.
Dinner à Paris
Take a fantasy trip to Paris while you savour a classic bistro supper. The menu includes a lovely make-ahead pâté, a simple salad to settle you into the mood, then hearty steak and frites to complete the scene.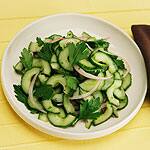 A taste of Alsace
Let your taste buds travel to the eastern region of France with this complete dinner party menu.
Greek-inspired buffet menu for 8
This casual buffet features crowd-pleasing Mediterranean flavours: Roasted Potatoes, Beet and Arugula Salad, Spinach and Feta Pie and Wine-Poached Pears for dessert.
A Moroccan dinner for 8
While the flavours are authentically North African, we Canadianize some traditional ingredients, reduced preparation time and offer grocery-store ingredient substitutes while still capturing the complex flavours of this aromatic, herb-and-spice-rich cuisine.
Family-friendly Indian food menus
Indian food favourites made easy with our recipes for samosas, butter chicken, saag paneer and more.
Thai New Year menu
Each year, April 13 to 15 is the
Thai
New Year, or
Songkran
. Celebrate with our menu of six signature Thai dishes.
A taste of Malaysia
Pique the taste buds of your family or guests with our authentic Malaysian main dishes, which have been fully adapted to Canadian kitchens.
Vietnamese comfort food menu
Comforting, fun, informal and interactive, look no further than our Vietnamese-inspired Pho menu for four to entertain your guests at the tail-end of winter.
Delicious Filipino recipes
A Filipino-Canadian chef combines tropical flavours with locally-grown ingredients for filling, one-pot meals.
Cantonese feast
This fourth generation Canadian-born Chinese opened the door to her family's home to share with our readers some of the traditional dishes and customs the Lee family enjoys.
Japanese bento box menu for 4
A traditional Japanese picnic lunch featuring Japanese Fried Chicken, Green Beans with Toasted Sesame Sauce and Grilled Bamboo Shoots.