Entertaining
Fondue party entertaining tips, recipes, and invites
Entertaining
Fondue party entertaining tips, recipes, and invites
Heading out for a special evening can be more of a hassle than it's worth. Hard to find babysitters, expensive drinks, no cabs and overcrowded venues can turn a special night out into a bore. A smaller gathering at home can be a fun, stress free evening on your own terms. A great way to do it is with a
fondue party
. Fondue has that fun retro appeal that is perfect for a party atmosphere; and having your guest participate in the cooking makes things easy on the host.
How to set up your fondue table
If you are entertaining more than six people, set up a couple of pots so no one has to reach too far. At each place setting include plates to set hot food on and forks for eating, keep fondue forks that are going into the communal pot for dipping only! Set out small vessels for dipping sauces to complete the place setting.
What stock for which meats and veggies
Try a few different fondues varieties for fun; red wine and beef stock are great for thinly sliced beef tenderloin and button mushrooms; chicken stock works for chicken, shrimp, or thinly sliced fillets of salmon and for vegetarians try a mushroom stock with tofu and broccoli, and of course there is the
classic cheese fondue
that appeals to just about everyone! Use your imagination when picking items for dipping, include a good selection and make your tray bright and colourful with vegetables. Since all of the food is cooked together, make sure you ask your guest about any food allergies, you can always have two types of fondue to accommodate everyone.
Assembly is everything
A fondue party is more about assembling ingredients than it is about cooking. Make sure the meat and vegetables you choose are fresh for great visual appeal and food safety. To keep things really easy, entertaining guru Ryan Jennings (www.cookingwithbooze.com) suggests buying good quality pre-made sauces to cut down on work the day of your party. He recommends cocktail sauce, béarnaise and Dijonnaise for wide appeal.
Drinks: Champagne of course!
For a night like New Year's Eve, and with a smaller crowd you can afford to drink the good stuff all night. Champagne is actually an excellent choice for a cheese fondue; the acidity will cut the richness of the cheese. If you are going with a beef fondue you may want to offer a medium-bodied red wine. If you have an
Asian-themed fondue
, try serving cold sake.

Page 1 of 2 -- Find great starters, sides and desserts for your fondue party, plus downloadable party invites on page 2
Starters and sides: Oysters and pickles
Have a starter of fresh shucked oyster, make it easy on yourself and have a platter prepared by your local fishmonger, nothing for you to do but pour the champagne and slurp them back. Accompany your fondues with an assortment of pickles: gherkins, pearl onions and pickled beets are traditional Swiss fare. .
Dessert: Sunken Chocolate Raspberry Cakes with Raspberry Sauce
A dramatic dessert that no one would guess you made the day before. Pop the cakes in the oven while you are eating for a warm sumptuous ending to a special night. Or if you want to keep it really simple, a bowl of bright orange persimmons and the best quality chocolate truffles are an elegant way to ring in the New Year.
Printable fondue party invites
Click on the images below to download a pdf of these fabulous fondue party invites. They'll print perfectly on your computer - just fold and send!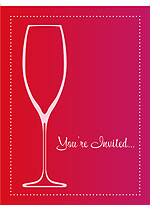 Retro fondue party invite
New Year's Eve party invite