Entertaining
Go Canada go!
Entertaining
Go Canada go!
When you're cheering on Canadian athletes be sure to have some of these delicious Canadian-inspired menu items on hand. Learn how to build a red and white jersey cake and impress your family and friends with your knowledge of Canadian cuisine.
Discover what great food Canada has to offer below.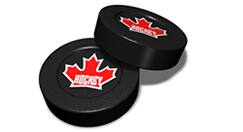 Go Team Canada!
Celebrate those special Canadian sporting moments with this delicious make-ahead menu. Bite-size sandwiches are easy to prepare ahead and reheat when guests arrive. And what could be more patriotic than munching on individual maple walnut cheesecakes as our flag rises above the winners.
Team Jersey Cake
This custom cake is perfect for cheering on Team Canada! Use a basket weave piping tip (or star tip) to make the wide, flat stripes.
Quiz: How well do you know Canadian food?
Sure, we're known for our igloos, ehs and chesterfields, but Canadians have more to bring to the table – literally. We may not have the most notable culinary history, but Canadian food has earned a reputation for being diverse, hearty, and often conveniently portable (for those lumberjacking adventures or weekend hockey tournaments).
10 tastes of Vancouver
Vancouver restaurateurs are passionate about their chefs and eager to show off their digs. Learn the hot spots around town.

Nanaimo Bars
Nobody disputes the origin of these treats, but there's always an opinion on the exact ingredients.
Eat your way across Canada
Enjoy a cross-country tour of our culinary home. From east to west, get a taste of what each great Canadian province has to offer.
Photo gallery: Canadian food by Canada's cuisine expert Anita Stewart
Canada's cuisine expert Anita Stewart takes us on a photo tour of Canada's best foods.
For insider access to this year's olympics, visit
Vanmag.com/Olympics

Page 1 of 1