Food Tips
5 easy ways to decorate cookies
Photography: Jeff Coulson
Food Tips
5 easy ways to decorate cookies
Try our five easy tricks to decorate cookies in a variety of ways this holiday season.
1. Outline and flood.
Outlining and flooding with royal icing is the classic way to decorate cookies. It does require a little patience and practice, but with the right method, you'll be able to decorate holiday cookies in an endless number of ways.

To outline cookies, fill a piping bag fitted with a small plain tip with some of your icing and pipe a thick outline around the edges of your cooled cookies. Let the cookies stand until the outline is dry, which takes about 20 minutes. Then, stir water, 1/2 teaspoon at a time, into your remaining icing, until it's easy to spread. You can then pipe or spoon the thinned icing inside the outlines of the cookies. Use a toothpick, skewer or small pastry brush to spread the icing to the piped edges and pop any air bubbles. Use paste food colouring as you see fit to colour the icing and create different designs and patterns.

2. Add a glaze.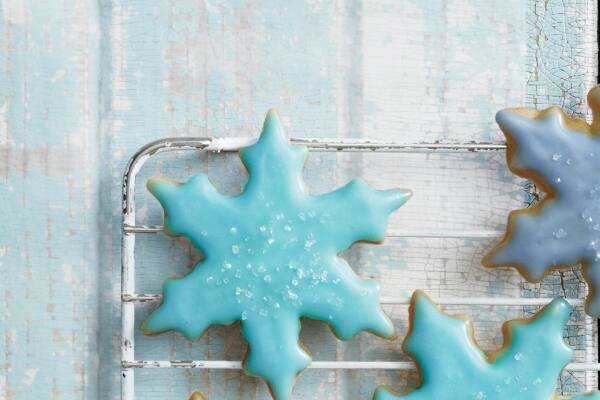 If you're pressed for time but still want to add a touch of elegance to your cookies, simply make a thin icing and dunk the tops of the cookies in the glaze to coat. Once the icing dries, you'll have a beautifully iced cookie that took just minutes to decorate! For an extra-special look, sprinkle the cookies with decorating sugar while the icing is still wet.

3. Paint them gold.
A soft fine-tip pastry brush and edible gold decorating dust are all you need to add a little glitz and glamour to holiday cookies. Opt for darker cookies, like these chocolate ones, so that the metallic colour really stands out.

4. Give them the polka-dot treatment.
To make these whimsical polka dots, use a toothpick (or a skewer) and dab small dots of coloured royal icing to cookies that have just been outlined and flooded. Adding the dots while the icing is still wet creates a perfectly uniform surface once the icing dries.

5. Drizzle away.
To decorate cookies in a matter of seconds, drizzle cooled cookies with a simple icing sugar glaze or melted chocolate for a pretty finish. Use a piping bag fitted with a small plain tip for polished results, or drizzle the cookies using the prongs of a fork for a more rustic look.