Food Tips
Books for foodies
Food Tips
Books for foodies
The Food Encyclopedia
(Robert Rose, $49.95) by Jacques L. Rolland and Carol Sherman with other contributors. A great read that explains more than 8,000 ingredients, tools, techniques and people, from Brillat-Savarin to Chef Boyardee.
Click to buy this book at 25% off the cover price.
Vij's Elegant and Inspired Indian Cuisine
(Douglas & McIntyre, $40) by Vikram Vij and Meeru Dhalwala. Eleven years ago Vij opened his first restaurant, aiming to have "the best Indian restaurant in Vancouver." It is, and now lineups outside are legendary. This first cookbook by the husband and wife restaurateurs brings their favourite dishes to an admiring public.
Click here to see Vij's Lamb Popsicles >>
Lucy's Kitchen
(Random House Canada, $35) by Lucy Waverman. The seasoned cooking teacher, columnist and author shares her no-fail, outstanding recipes, plus tips, techniques and advice with new and food-savvy cooks alike.
Weekend Cooking
(Whitecap, $29.95) by Ricardo Larrivée. A magazine founder, TV personality, passionate cook and up-and-comer on the food scene, Larrivée celebrates cooking for family and friends in this charming book.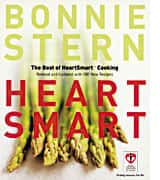 Heart Smart
(Random House Canada, $34.95) by Bonnie Stern. This revised, updated collection of recipes blends healthy eating with Stern's trademark delicious food.
Fabulous Fishcakes
(Formac, $19.95) by Elizabeth Feltham. Recipes from coast to coast reveal why this humble classic is now the darling of chefs across Canada.
The Cocktail Chef
(Douglas & McIntyre, $35) by Dinah Koo and Janice Poon. Taste-meisters Koo and Poon showcase the latest tastes in trendy little "apps" and impressive drinks.
Page 1 of 2
As Fresh as It Gets
(Arsenal Pulp, $24.95) by Christian Gaudreault and Star Spilos. The owners of the beloved Tomato Fresh Food Café in Vancouver open the door to making food that's wholesome, simple and inventive.
Red, White, and Drunk All Over
(Doubleday Canada, $29.95) by Natalie MacLean. An award-winning journalist who was, by her own confession, "born thirsty," MacLean offers a fun, enlightening romp through the wine world.
The Wine Atlas of Canada
(Random House Canada, $60) by Tony Aspler. A Canadian wine expert par excellence, Aspler draws on three decades of oenophilic experience to explore wine regions from coast to coast.
Canadians at the Table
(Dundurn, $35) by Dorothy Duncan. The culinary historian's exploration of Canadian food, culture and folklore is perfect for history buffs.
Love in the Time of Cholesterol
(Viking Canada, $29) by Cecily Ross. A frank, touching memoir of Ross and her husband coping with his quadruple bypass, recovery and a new appreciation for healthy eating.
My Life in France
(Random House Canada, $35.95) by Julia Child with Alex Prud'homme. In this volume created by Child and her grandnephew, Julia, as she is affectionately known to fans, falls in love with French food and finds her true calling.
Planking Secrets: How to Grill with Wooden Planks for Unbeatable Barbecue Flavor
(Whitecap, $19.95) by Ron Shewchuk is a must for someone who's great at grilling and wants to take their grills to new heights.
Page 2 of 2


Read more:
Vegetarian and vegan cookbook reviews >>
Originally published as
Books for Foodies
in the December 2006 issue of Canadian Living magazine. Click to subscribe and never miss an issue!