1. Canadian Living's Food director, Annabelle Waugh, shares the kitchen with Chef Charles, Corporate Chef of the Royalton Luxury Resorts (left), and Chef Freddy, Executive Chef of
Royalton Riviera Cancun Resort & Spa
, (right).
2. Chef Freddy, Executive Chef,
Royalton Riviera Cancun Resort & Spa
, exclusive to
Sunwing.ca
.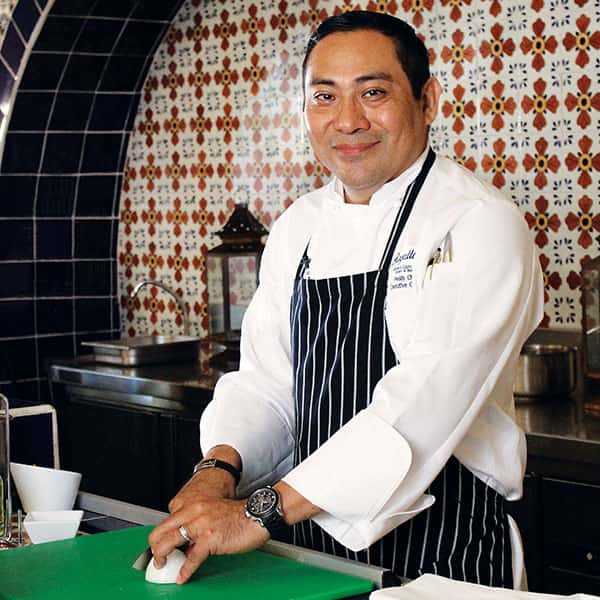 3. Chef Freddy
slices and dices at high speed and with precision—a skill picked up from years spent cooking in all inclusive resort kitchens across the Caribbean.
4. Annabelle presents the pièce de resistance—a fragrant
mango crème brulée
. Each guest gets the chance to torch their own dessert to caramelized, glassy-topped perfection.
5. Chef Freddy
and Annabelle Waugh mixing up the crème brulée.
6. Annabelle experiences epazote for the first time—a local herb that has a pungent, almost medicinal smell, but a fresh, fragrant, herbal flavour. Chef Freddy uses it to flavour the cooking liquid in which he cooks the red beans. It's also traditionally used in Mexico to make a stomach-settling herbal tea.
7. Sunwing guests
get their first smell of Chef Freddy's tequila-infused shrimp. A little splash of tequila adds a surprising depth of flavour, and a squeeze of lime offsets the brininess of the shrimp.
8. The skilled staff at Royalton Riviera Cancun brings out beautifully-plated samples of the
Margarita Shrimp Pipette
to the guests, so they can experience each dish as it's completed in the class.
9. The Royalton Resorts' new selection of chef-prepared gourmet fare and sommelier selected wines, care of seasoned Sommelier Alonso, ensures every meal is memorable.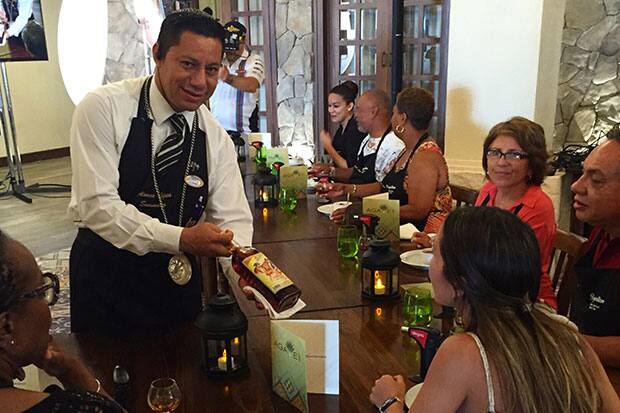 10. Attending the cooking class together gave this mother-daughter duo a chance to try something new, and enjoy each other's time in a different way.
11. Huge thanks to the Royalton Riviera Cancun's Food & Beverage crew and
Sunwing.ca
for hosting us!
12. And a special thanks to the participants!
We took the trip–now it's your turn!
Enter for your chance to win The Canadian Living Culinary Escape with Sunwing.ca
.