Food Tips
How to assemble beef wellington
Beef Wellington Image by: Maya Visnyei
Food Tips
How to assemble beef wellington
This step-by-step will help you put together the most beautiful beef wellington ever!
STEP 1: Arrange prosciutto vertically in 2 rows along centre of plastic wrap, overlapping slightly to create rectangle large enough to enclose roast. Evenly spread Mushroom Duxelles over prosciutto, leaving 1-inch border. Place roast in centre; roll up prosciutto tightly, tucking in ends to seal completely. Roll up plastic wrap tightly; refrigerate for 30 minutes.
Illustration by Clare Mallison
STEP 2: Place 1 pastry sheet on prepared baking pans. Cut second pastry sheet into 2 pieces, one 3 inches wide and one 7 inches wide. Place 1 long end of 3-inch piece against bottom end of pastry sheet on pan to create 13- x 10-inch rectangle; using fingers, press together to adhere.
Illustration by Clare Mallison | iStockphoto (Knife)
STEP 3: Place roast lengthwise in centre of 13- x 10-inch pastry; brush pastry surrounding roast with some of the egg.
Illustration by Claire Mallison | iStockphoto (Knife)
STEP 4: Cover top half of roast with remaining whole pastry sheet; cover rest of roast with 7-inch piece, overlapping slightly. Using hands, press pastry against sides of roast to seal edges.
Illustration by Clare Mallison
STEP 5: Trim all but 1 inch of the excess pastry around base; crimp. (Use excess pastry to make decorative cutouts, if desired.) Brush all over with remaining egg; using tip of knife, score top.
Illustration by Clare Mallison
BEEF WELLINGTON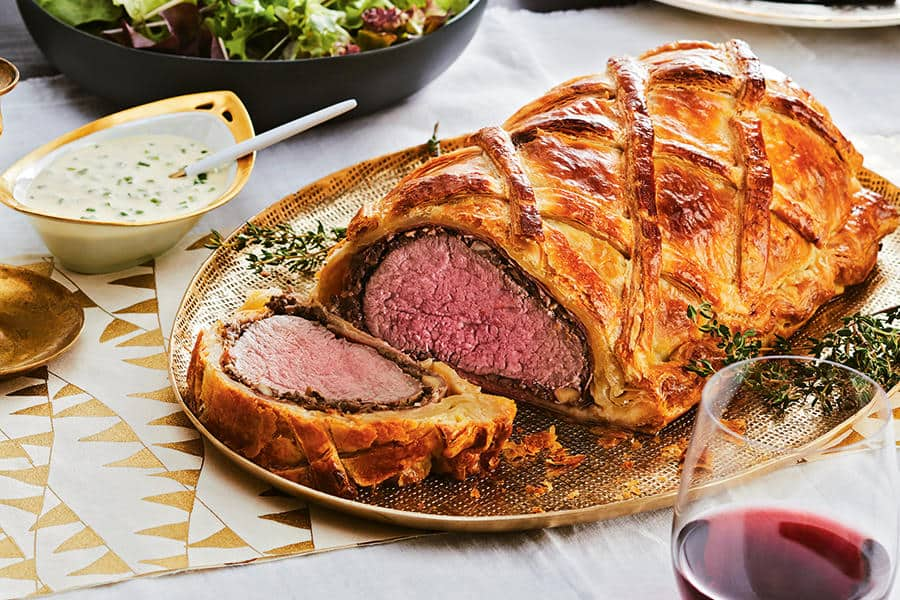 GET THE RECIPE: Beef Wellington