Food Tips
How to make the ultimate crêpes
Photography by Jeff Coulson Image by: Photography by Jeff Coulson
Food Tips
How to make the ultimate crêpes
Making crêpes is easier than you think. Follow our step-by-step instructions and learn how to make
The Ultimate Crêpes
for your next brunch.

1. Mix
Whisk the crêpe batter until smooth. Strain out any remaining lumps with a fine-mesh sieve.
Photography by Jeff Coulson


2. Swirl
Pour scant 1/3 cup crêpe batter into hot skillet. Tilt and swirl the skillet to spread the batter evenly.
Photography by Jeff Coulson


3. Cook
Cook until the edge curls away from the side. Flip and cook until edge is light golden.
Photography by Jeff Coulson
Test Kitchen Tip:
There are two tricks to making perfect crêpes: Use a
nonstick pan
, and cook on moderate heat to prevent the crêpes from overbrowning. If the pan starts smoking or the crêpes become too golden, lower the heat slightly.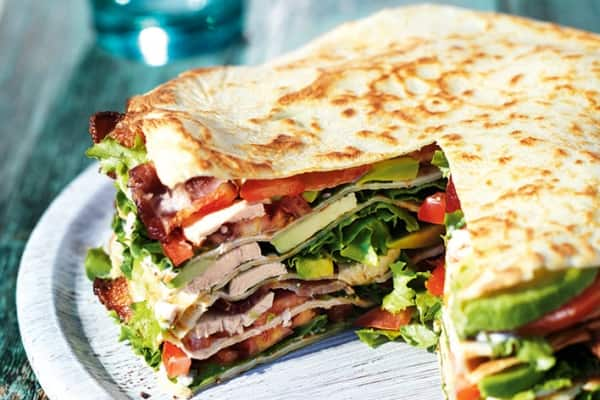 Photography by Jim Norton
Creative Crêpes
Wrap up or stack your crêpes with these flavourful filling suggestions.
Savoury:
- bacon + grilled chicken + avocado + tomato + lettuce + mayo (
Tip:
Layer like
The Ultimate Crêpes
)
- steamed
asparagus
+ Swiss cheese + béchamel sauce
- ham + sautéed mushrooms + Brie
- smolked salmon + crème fraîche + dill (
Tip:
Try our Creamy Smoked Salmon Breakfast Crêpes
)
Sweet:
- cherries + sweetened mascarpone + melted dark chocolate (
Tip:
Use The Ultimate Chocolate Crêpes
)
- squeeze of lemon juice + sugar
- sautéed apple slices + maple syrup + whipped cream
- berry jam + ice cream + icing sugar
Looking for more brunch inspiration? Check out our
11 fabulous Mother's Day brunch ideas.