Lunch & Dinner
Easy pasta salad recipes
Lemony Red Pepper and Asparagus Pasta Salad
Photography by Joe Kim Image by: Lemony Red Pepper and Asparagus Pasta Salad <br> Photography by Joe Kim
Lunch & Dinner
Easy pasta salad recipes
Planning a picnic or family barbecue anytime soon? Give yourself one less thing to worry about and go for one of our easy pasta salad recipes. It's sure to be a hit!

Pasta salads are great to make ahead, and are absolute tops for large groups. They also take the cake for being an extremely versatile dish – with a host of added ingredients, toppings and dressings, simple pasta salads can go from humble side to star entrée in no time.

We asked Test Kitchen food specialist Amanda Barnier to share some top tips for preparing pasta salads, and why they're a crowd favourite. Here's what she had to share:

Pasta salads: the perfect make-ahead dish
"Pasta salads can easily be prepped in advance and can feed a crowd with little effort," Amanda says. "It can be made in advance and cooled immediately after cooking."

One important tip to remember, she adds, is to "add dressing the day it's being served, because it will quickly absorb the dressing."

Pasta salad favourites
"I like using cheese filled tortellini for a hearty salad. Soba and rice noodles are great with Asian dressings, whole grain and coloured pastas," Amanda says.

How to store pasta salads
"Keep salads well wrapped and refrigerated," she says. "Salad has the same storage life as its ingredients. Seafood is best eaten within 2 days, and chicken (within) 2 to 3 days. If traveling, be sure to store pasta salads in coolers packed with lots of ice."

"Proteins should not be within 4 C and 60 C for longer than a four hour period," she adds.

The long and short of it: best pasta shapes
"Short shapes are best with vinaigrettes and creamy dressings, and chunky ingredients such as chopped vegetables and beans," Amanda says.

"Long pasta shapes are better used with thinly sliced vegetables, proteins, herbs, spices and vinaigrettes."

Tips for making pasta salad
"If making a pasta salad in advance, rinse with cold water to stop the cooking process and drain well," she advises. "Add dressing just prior to serving. Pasta quickly absorbs liquids; if the dressing is added too soon, the pasta will absorb it."

So whether you prefer chunky pasta salads with a cool, creamy dressing perfect for summer picnics, or entrée-worthy pasta salads with long rice noodles and a tangy vinaigrette, you're sure to find a new favourite with from our collection.

Easy pasta salad recipes:

Lemony Red Pepper and Asparagus Pasta Salad
A bright vinaigrette makes this pasta salad the ultimate dish to serve at any summer party.



Photography by Joe Kim

Mediterranean Orzo Salad
This salad highlights many fresh flavours of the Mediterranean and is at its best when made with good-quality olive oil.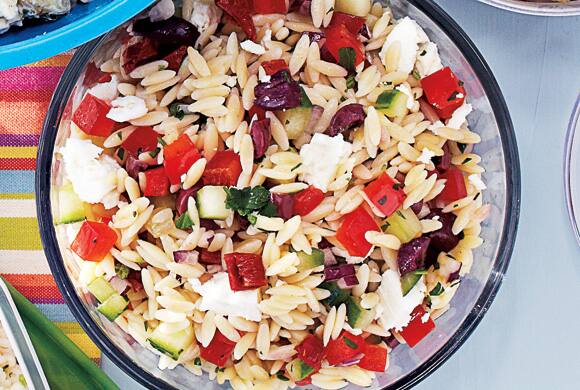 Photography by Jeff Coulson

The Best Macaroni Salad
This is a great keeper salad and perfect for a picnic or BBQ. Just make sure you pack it with plenty of ice packs to keep it nice and cold, both during transportation and at the table.



Photography by Annabelle Waugh

Chicken, Broccoli and Bocconcini Pasta Salad
Make this pasta salad for the whole family—the kids will love the mild dressing and round bocconcini cheese, while the adults will appreciate it as a light alternative to a sandwich.



Photography by Jeff Coulson


More great pasta salad recipes:

Spinach and Sun-Dried Tomato Pasta Salad
This salad is simple to assemble for a quick family meal.

Warm Spinach and Ham Pasta Salad
Dressed with Dijon mustard and white wine vinegar, this penne pasta salad is a winner topped with goat cheese and cherry tomatoes.

Winter Vegetable Pasta Salad
Cook everything together in one pot for this easy warm salad.

Pea, Pepper and Pasta Salad
This make-ahead salad is perfect for toting to a potluck barbecue or picnic. Toss the salad with the dressing right before serving so the peas stay bright green.

Summer Pasta Salad
Serve this light summery salad with crispy, homemade Parmesan Breadsticks.

Mediterranean Fusilli Salad
Fresh basil, hearty beans, piquant sun-dried tomatoes and al dente pasta make the perfect summer salad.

Warm Roasted Red Pepper Pasta Salad
The dressing lends a taste of summer any time of year. The red peppers provide vitamins A and C and potassium. Quick and easy to make, this salad is perfect to take to a last-minute potluck or picnic.

Grilled Sausage, Pepper and Bocconcini Pasta Salad
This delicious pasta salad is made with tasty Italian sausage and lots of colourful peppers.

Bow-Tie Pasta Salad
This easy, colourful salad has the sunny fresh tastes of Greece.

Tuna Pasta Salad
Using tuna packed in both oil and broth means you'll need less oil in the dressing.

Salmon Pasta Salad
Start with melon wedges to whet your appetite for this quick and light dinner.

Grilled Vegetable Pasta Salad
Grilled market-fresh veggies meet marinated olives and artichokes in this healthy dish made with whole wheat rotini. So chock full with taste and texture, carnivores won't complain about this vegetarian dish.

Party Parmesan Pasta Salad
Try this hearty salad studded with salami, olives, tiny tomatoes, roasted pepper and fresh basil.

Smoked Salmon Pasta Salad
This easy tasty pasta salad is loaded with calcium. Omit the banana peppers if your child is not a fan of hot food.

Deli Pasta Salad
Add 1-1/4 cups (300 mL) extra pasta to the pot at dinner the night before to have enough for this lunchtime salad the next day.

Sirloin Steak with Green Bean Pasta Salad
Sirloin steaks paired with green beans and tomatoes make this salad a hearty entrée.

Looking for more great recipes? Try our best potato salad recipes.