Health
5 minutes with Tessa Bonhomme
Health
5 minutes with Tessa Bonhomme
For someone who's only 26 years old, hockey player
Tessa Bonhomme
has already racked up quite a list of accolades and awards. Let's see:
She holds the scoring record for points by a defenceman at Ohio State University (128 points)
She was a women's college player of the year finalist (twice)
She was the first pick in the Canadian Women's Hockey League 2010–2011 draft (by the Toronto Aeros)
Oh, and she won an Olympic gold medal as a member of Canada's women's hockey team in Vancouver in 2010. This month the Sudbury, Ont., native trades in her hockey skates for figure skates, as the first female hockey player to compete on "Battle of the Blades" (CBC, Sunday nights).
(Update: Tessa and partner David Pelletier ended up winning the competition.)
We recently spent five minutes with Bonhomme at the launch of the
Nike House of Training
to get the goods on her game-day routines and training secrets.
Do you have a favourite pre-game meal?
"I was taught at a young age to eat what you're comfortable with, to make sure it's not anything extreme. So it's chicken, pasta, salad and vegetables. It's kind of a boring meal, but it's what makes me feel good when I'm out there and it's what helps me perform at my best."
What about pre-game superstitions?
"I have to get my juggling in. If I don't, that's a big deal. I use Cirque de Soleil balls I got when I saw a show. Kind of geeky, I know, but it gets my hand-eye [coordination] going."
Any post-game rituals?
"I like to throw back half a Gatorade and some
protein
just to get something in my body. If it's not that, it's chocolate milk. If I had bad game, sometimes I just write it down to know I've put my thoughts somewhere." [caption id="attachment_1962" align="aligncenter" width="400"]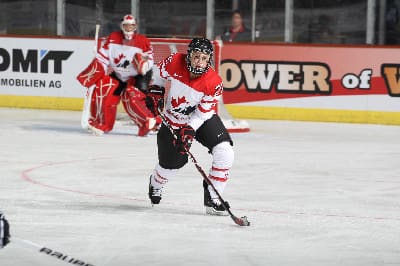 Tessa carries the puck up ice during a game at the 2011 women's world hockey championships. Photography by Andre Ringuette – HHOF/IIHF Images (courtesy of Hockey Canada)[/caption]
Favourite workout or pre-game music?
"I'm a rock 'n' roll girl, so the Tragically Hip, Guns 'n' Roses and ACDC."
Working out can be a drag some days. How do you keep it fun?
"I mix in a bunch of different sports. Some mornings when I wake up and I'm super grumpy I go to a kickboxing class and beat the crap out of the teacher; some days they beat me up."
You have a reputation as being a bit of a jokester. What's your favourite prank you've pulled?
"One night in Switzerland, [teammate] Cherie Piper and I stayed behind when a bunch of the girls went out for dinner. For some reason, everyone left their doors open, which was a terrible idea. We TP'd their bathrooms and left them a bucket of water on top of their doors. And, just because they weren't expecting to get pranked again, we leaned a big garbage can on the elevator doors, so that when they opened it, it splashed in on them.
What advice do you have for young female athletes?
"Just have fun. Take a lot of pictures when you're at tournaments and make as many friends as possible." [caption id="attachment_2937" align="aligncenter" width="250"]
The Women's Issue of
The Hockey News
is on newsstands now.[/caption]
UPDATE:
Tessa is featured in the October 29 issue of
The Hockey News
.
In the magazine's special Women's Issue, you can read more about Tessa, as well as other star players, including Meghan Agosta and Hayley Wickenheiser, learn about women's professional hockey and catch up with goalie Manon Rheaume, the first women to play in the NHL.
Is there an athlete you'd like to spend five minutes with?