Health
Fight that cold and WIN!
Health
Fight that cold and WIN!
Is it me, or is everyone coming down with something these days? A cough, a cold, a weird bronchial thing, a sinus situation - it seems everyone is a bit under the weather in March. The worst part about getting sick is that it makes it easier than ever to succumb to temptation, skip your workout and retreat under the blankets with a box of Kleenex and a bag of cheezies. But no more - now it's time to take charge of your health and be proactive about fighting coughs and colds!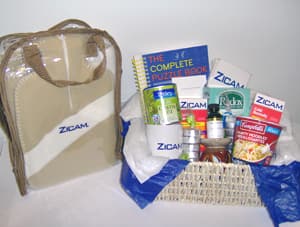 To help you win your fight, we've got four fabulous Cold Survival Kits to
GIVE AWAY
, brought to you by the new zinc-based cold remedy, ZICAM. Each kit is valued at $100 and includes a hot water bottle with cover and blanket, a branded mug, green tea, chicken noodle soup, essential oils and a holder, bathtub salts, a $25 Chapters gift certificate and a selection of crossword and sudoku puzzles. Just the stuff you need to get over a cold quick and get back to your healthy lifestyle! But wait . . . there's more!
We also have a super-charged
GRAND PRIZE
from ZICAM that's valued at $500 (!) and includes a Honeywell 'Quiet Care' humidifier and a light therapy lamp. That's some serious cold-fighting ammunition! For a chance to
WIN
, just
Subscribe to This Blog
and leave a reply telling us how you nurse yourself back to health when you're under the weather. Maybe your prescription is chicken soup and game shows. Maybe you enlist your spouse to pamper you. Maybe you just soldier through it. Let us know by Tuesday, March 31. I'll announce the four winners and the one grand prize winner here on Wednesday, April 1 (no foolin'). And: you'll also want to visit ZICAM's website at
www.zicam.ca
to nominate your favourite nurse in the first-ever No Nonsense Nurse Awards. Our great Canadian nurses are on the frontlines of the healthcare system helping us overcome illness and dispensing crucial health care advice. It's time to recognize your favourite nurse by nominating him or her for the No Nonsense Nurse Awards!