Health
How I lost 10 pounds—the diet
Health
How I lost 10 pounds—the diet
I'm sure you've heard of the 80/20 rule. Make 80 per cent of your food intake super healthy, and you can have fun with the other 20 per cent. Your fun might be pizza, pasta or pinot (OK, maybe that's
my
fun). But what I learned over the course of my pre-wedding shred is that for serious results, you really have to tip the scales closer to 90% and sometimes even 95 per cent if you want to see results when you step on the scale. So I turned decided to try the Paleo Diet. Why? My boyfriend (I know, it's
fiancé
, but you can't get me to say it—would rather skip over it and go straight from BF to husband) started doing it when he joined
CrossFit
a few months ago. The CrossFit and Paleo community go hand-in-hand, so it was a natural fit; he makes most of my meals so I figured, why not? Everything's easier when you have a buddy.
What appealed to me about the Paleo Diet:
I met people who tried it, loved it and had great results beyond the scale. Things like improved sleep, focus and mood. One friend banished bloating and swelling for good.
The diet is more of a lifestyle, with a heavy focus on eating REAL FOOD. Fruit, veggies, meats, nuts and seeds. No chemically-laden, pre-packaged grossness that we've all become addicted and accustomed to eating every day.
There's no calorie counting, food charting or weighing, no portion control (and the latter is to a degree—you can't expect to eat a 32 oz steak every single night and see your jeans fall off) or any weird "must-eat" foods.
There's an emphasis on health. You're eating less processed food, less sugar—less garbage, really. The whole idea that you can ward off a handful of diseases by eating better was equally as appealing as the vanity aspect; because yeah, I want to look good in my wedding dress but I'd also like to live a long and healthy life with my new husband.
So when I wanted to crack, I reminded myself of all of the reasons above. There were many dark days when I wanted to ravage the heavenly goodies that emerged from
The Canadian Living Test Kitchen
like a starving vampire. I lost track of the number of times I fantasized about shame eating warm and doughy pumpernickel bagels in the pathetic hallways of the
Sheppard Centre
. When I neared these times of turbulence, I'd text my boyfriend and whined; he'd remind me of the wafts of deliciousness that his colleagues were consuming and how close he came to buckling yet remained strong. Knowing he was simultaneously being tortured by temptation made it marginally easier. And resisting felt so victorious. Of course we'd cheat every now and then. My go-to cheats were chilled pinot grigio and vanilla or chocolate dip donuts from Tim Hortons; his were a few slices of pizza and a pint of beer. Though we limited those moments of rapture to two or three times per month.
The challenges
The initial cravings for sugar and wheat that took at least three weeks to subside. Severing the post-dinner sweet tradition was insanely difficult.
The temptation of working extremely close to the Canadian Living Test Kitchen and smelling/seeing/hearing people discuss the most delicious food on the daily.
Cutting dairy, particularly milk and cheese. I used to be a huge latte lover, and stripping down to black coffee was incredibly trying. I coped by ordered flavoured brews from Second Cup, like Belgian Chocolate, Caramelo and Butter Pecan.
Prepping my food. Chopping became a monotonous chore.
Finding "Paleo 'Propriate" foods to eat in restaurants, particularly when it came to ordering take out. I stuck to salmon sashimi and noodle soups with the noodles removed.
In addition to the support from my boyfriend, I found some resources to maintain my motivation. Reading
The Paleo Solution by Robb Wolf
was argument enough to bid wheat, sugar and dairy a grand farewell. I became deeply obsessed with
PaleoTalk
, a frank and highly entertaining podcast produced by three Paleo-passionate friends living in Northern California. They chatted about their own challenges when first experimenting with the diet and answered questions from listeners on everything from saving coconut oil when cooking to quelling PMS symptoms to improving workout performance. Here, a few of my favourite Paleo-friendly meals. This salad was a great post-workout dinner to satisfy my salt cravings and deliver some serious protein to torn muscles. [caption id="attachment_2915" align="aligncenter" width="348"]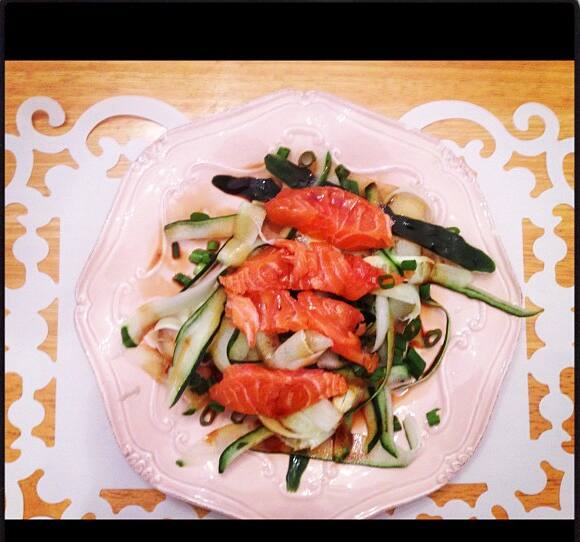 Salmon sashimi salad with ribboned cucumber, green onions and soy sauce. Photography by Katherine Flemming[/caption] This pretty soup became our late summer/early fall Sunday tradition. Pureed carrots, celery, sea salt and Spanish onions. We paired it with sauteed garlic
kale
and a few sweet potato chips from
Food Should Taste Good
. [caption id="attachment_2916" align="aligncenter" width="352"]
Carrot soup with sauteed garlic kale and sweet potato chips. Photography by Katherine Flemming[/caption] These homemade burgers were a big hit. I riffed on an old
Massimo Capra
recipe and mixed lean ground beef, bacon, bacon fat, sesame oil, hoisin sauce, minced garlic and worcestershire sauce together. Eating it sans bun was difficult at first, but I started to get used to enjoying the flavour of the burger, rather than focusing on all the things I used to add to my burger. Sometimes I would top with tomato and avocado to mimic the bun. [caption id="attachment_2917" align="aligncenter" width="309"]
Homemade burgers with sweet green salad. Photography by Katherine Flemming[/caption] And when I cheated? I kept it simple with donuts, because their combination of wheat, sugar and chewy dough was the ideal trifecta of the indulgence I was after. [caption id="attachment_2918" align="aligncenter" width="356"]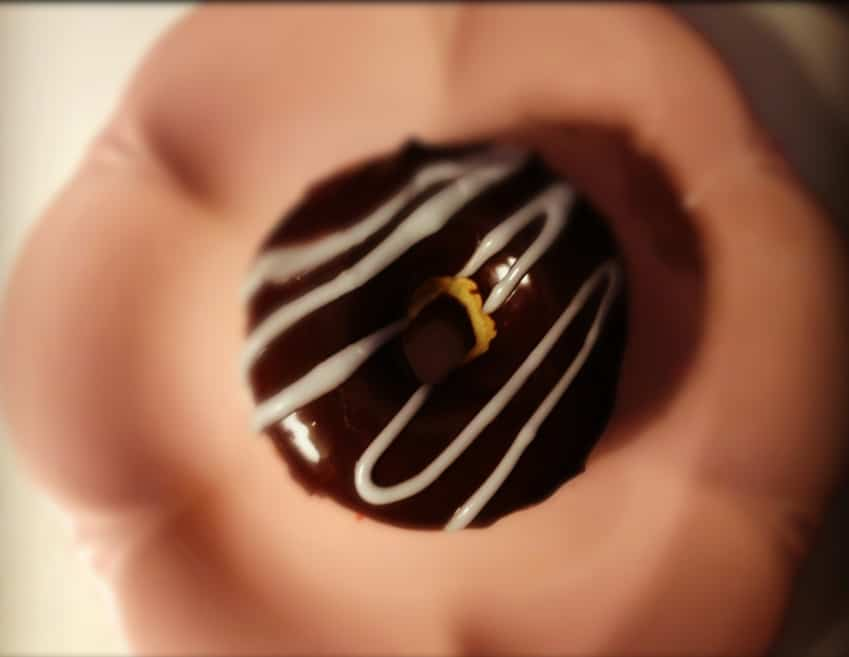 Donut glamour shot. Photography by Katherine Flemming[/caption] And most recently, I've banished donuts for some
Red Velvet Cake Tea from David's Tea
. It's
unreal
. And after the wedding? I think I'll likely keep up on eating Paleo—at least 80 per cent of the time.
Have you tried the Paleo Diet? Does it appeal to you? Leave a comment below!