Health
Uncover the Ultimate Mattress for Alleviating Back Pain
Health
Uncover the Ultimate Mattress for Alleviating Back Pain
Waking up well-rested in the morning without a sore back or achy joints means that you're ready to face the day with energy, confidence, and a spring in your step. Set yourself up for success with the right mattress that supports your back in the best way possible: a Douglas mattress, which gets the thumbs up from thousands of Canadians across the country!
The importance of sleep is well documented. It's necessary for the mind and body to recharge, it helps you think clearly, and contributes to good health. Most adults need at least seven hours of sleep every night, but don't always get it, especially if suffering from back pain.
You need a comfortable and supportive mattress that relieves pressure in parts of your body, like your hips and shoulders, to give you the support you need for a peaceful night's sleep.
The Not-So-Secret Secret to Sweet Slumber
You know how great you feel after a good night's rest. It all starts with the right mattress because, unless you're comfortable, a good sleep will elude you all night long.
Start with Canada's best mattress for back pain, one that more than 150,000 Canadians sleep on, and has nearly 13,000 five-star reviews, many of which specifically mention how switching to Douglas has alleviated their back pain. All Douglas mattresses are designed to be medium-firm to suit different body types and sleep positions.
How does Douglas do this? A robust foam-layer system provides ample support to help keep the spine aligned while providing the perfect amount of cushioning, which is crucial for alleviating back pain.
What affects sleep quality?
Many things can affect your sleep. Take, for instance, the position you sleep in. Whether you sleep on your back, stomach, or side impacts your back. The best position to sleep in is on your back, as this ensures it is fully supported. If you like, tuck a pillow underneath your knees to make it more comfortable for your lower back.
The worst position to sleep in? On your stomach, as it puts extra stress on your neck and your spine, which may not be aligned and supported. Many people sleep on their side, which is fine, as your spine is also supported, but for better spinal alignment, try placing a pillow between your knees.
Changing your sleeping position after many years can be challenging. Instead, you can pair your mattress with your sleep style. Douglas's medium-firm feel provides the perfect balance of comfort and support to help keep your spine aligned regardless of your sleeping position. That means you'll be waking up in good shape, without the aches and back pain that you may have experienced sleeping on other mattresses.
Can a mattress really make that much of a difference?
Yes, absolutely, especially if you suffer from back issues. The wrong mattress can actually prevent you from falling asleep and staying asleep, and if you are waking up with a sore back or achy joints, then you need a good solution.
A mattress that's too soft or too firm won't help you maintain good sleep posture, and spinal alignment can contribute to your discomfort. Using a mattress that sits on either side of the too-soft or too-firm spectrum can also trigger pressure points.
You need a mattress that ensures enough stability to support your body. The right mattress balances support, pressure-point relief, and keeps your spine properly aligned. It also helps you mitigate some of that discomfort to get a deep, restorative sleep.
Choosing The Right Mattress
With a quick Google search, you can see there are plenty of mattress options to choose from. Finding the right mattress in the sea of choices can be challenging, so you'll want to remember these tips while you're shopping for a mattress to alleviate your back pain.
Read real customer reviews. How many reviews does the mattress have that specifically reference back pain? Don't just read the reviews on the company's website; use websites like Better Business Bureau and Trustpilot as well to get a holistic picture of the mattress and the brand you're considering. Douglas mattresses not only have 16,000 customer reviews, they also have an A+ rating on the Better Business Bureau.
Trust the research. Tested by third-party engineers and ranked 9.9/10, Douglas is a medium-firm mattress, popular for its versatility to support all kinds of sleepers, whether you sleep on your back, stomach, or side. It also received top ratings for other key features like motion isolation.
Understand return policies. Many mattress retailers offer sleep trials, but not all offer full refunds and returns. At a brick-and-mortar store, for instance, they only offer exchanges. But with Douglas, you get an incredibly generous 365-night risk-free sleep trial, and if you don't like it, they'll pick up your mattress and give you a full refund.
A Winning Trio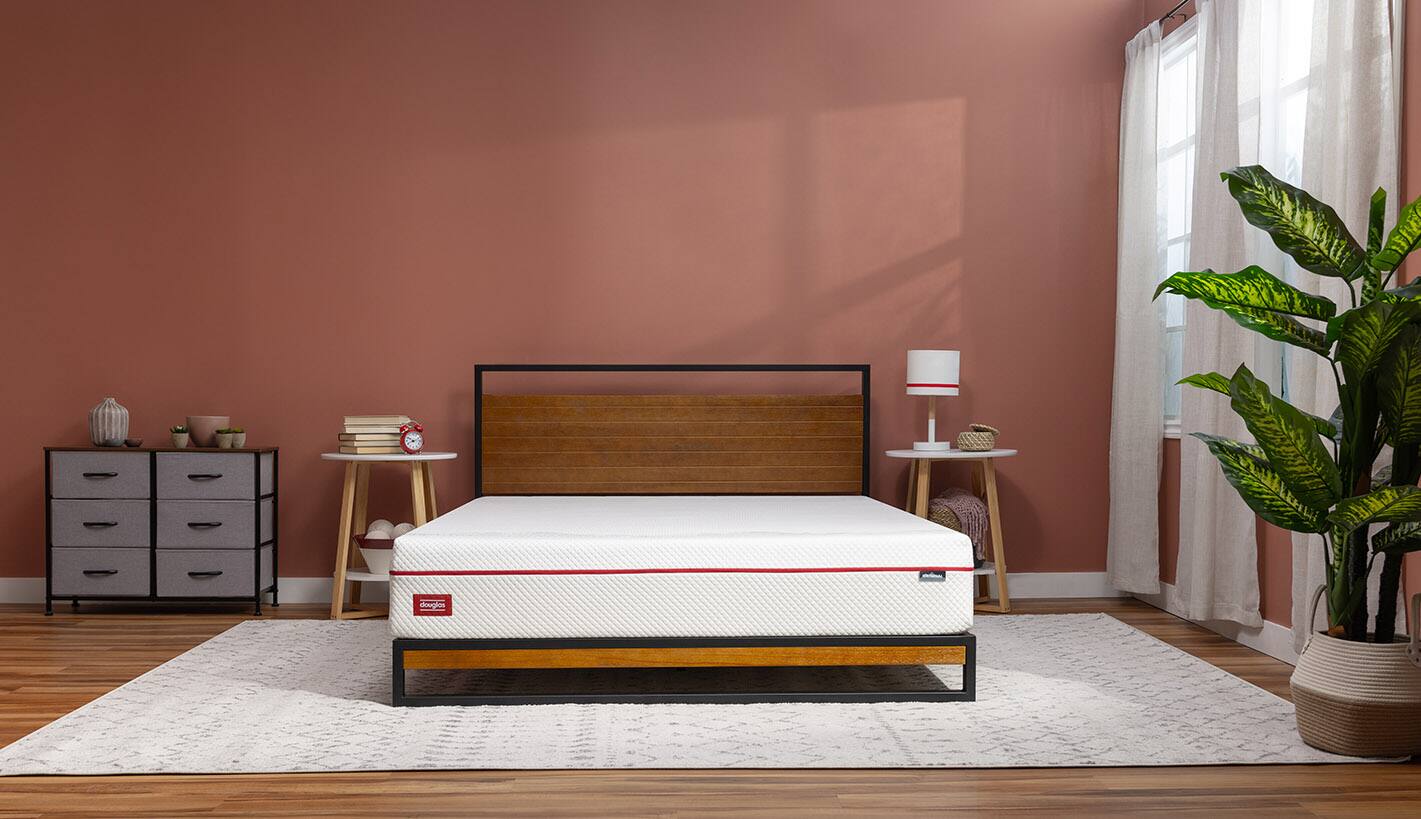 Douglas now offers three mattress models for sleepers to choose from, allowing them to opt for a mattress that fits their unique sleep needs.
The OG: Douglas Original – not too soft and not too firm; the Douglas Original is the brand's flagship and best-selling mattress. Cooling gel foam, Elastex® foam, and motion isolation support foam work together to provide perfectly balanced comfort and the right firmness for all sleeping positions. Wrapped in a machine-washable cover infused with sustainable plant-based fibres, this mattress keeps sleepers cool all night.
A Popular Upgrade: Douglas Alpine – this popular upgrade offers slightly thicker layers than the Douglas Original for more pressure-point relief, improved support, and better cooling, too, with cooling gel foam enhanced with temperature-balancing phase-change material. Ideal for sleepers looking for more cooling features, increased pressure-point relief, and full body support.
The Crème de la Crème: the Douglas Summit – this is the top-of-the-line mattress in the Douglas mattress collection. With the thickest layers, triple-action cooling – cooling gel foam, temperature-balancing technology, and cooling nanofibres woven into the machine-washable cover, the Douglas Summit offers superior pressure-point relief and amazing motion isolation.
Try it, you have nothing to lose. Every made-in-Canada Douglas mattress comes with a 365-night trial, a 20-year warranty, a FREE comfort sleep bundle (up to $650 value), and free shipping and returns in most areas. Seriously, that kind of peace of mind will only help you sleep better.