Nutrition
Why apple cider vinegar is so good for you
Photography by Maya Visnyei
Nutrition
Why apple cider vinegar is so good for you
Vinegar is an ancient elixir that has been a wellness staple since the days of Hippocrates and continues to be used as a modern-day remedy.
The Lowdown
Apple cider vinegar is made from fermented apples. Choose the raw, unfiltered kind, in which you'll find the "mother," strands of beneficial proteins, enzymes and gut-friendly bacteria that give the liquid a cloudy appearance.
The Benefits
Rachel Bies, a Toronto-based holistic nutritionist, shares some of cider vinegar's nutritional highlights.
Cider vinegar's prebiotic compounds add friendly flora (good bacteria) to your gut, facilitating digestion and aiding vitamin and mineral absorption.
It contains potassium (an electrolyte that helps keep sodium levels in check) and magnesium, which helps boost energy levels and calm nerves.
Cider vinegar ranks low on the pH scale, and once consumed, it has an alkaline effect that acts as a balancing agent. Aim for a healthy pH by eating more alkaline foods (vegetables and grains) than acidic ones (meat and cheese).
Add it to your beauty routine
Treat your tresses to a deep-cleansing treatment featuring this zippy vinegar.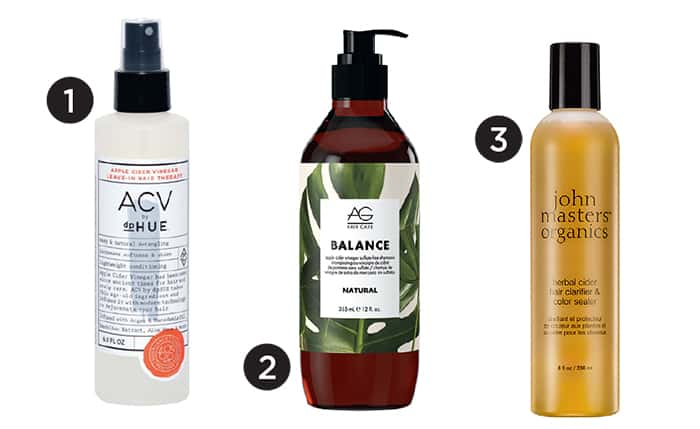 1. Lustrous locks
Restore shine to your do without any lingering vinegary scent.
DPHue Apple Cider Vinegar Leave-In Hair Therapy, $37, ulta.com.
2. Crystal clear
Gently clean your hair and scalp, removing gunk and hydrating your mane. AG Hair Balance Apple Cider Vinegar Sulfate-Free Shampoo, $28, chatters.ca.
3. Shine on
Remove buildup while reviving shine with this clarifying weekly treatment. John Masters Organics Herbal Cider Hair Clarifier & Color Sealer, $29, johnmasters.ca.
Incorporate it into your diet
Use apple cider vinegar to make a vinaigrette for your salad. Try our recipe for Trout Salad with Cider Vinaigrette.