Prevention & Recovery
How to avoid bug bites, plus the latest on insect repellents
Getty Image Image by: Getty Image
Prevention & Recovery
How to avoid bug bites, plus the latest on insect repellents
Come summertime, the great Canadian outdoors is where you want to be. The only downside? Getting bitten by mosquitoes, flies, ticks and other insects. Here's what you can do to avoid and treat bug bites.

Beat the bugs
Follow these tips to avoid bites:
- Dress in loose-fitting light-colour pants and long-sleeved tops made of tightly woven fabric that mosquitoes and flies can't bite through.
- Wear
closed shoes
. Rochon says mosquitoes are particularly drawn to 
the scent of your feet.
- Stay indoors from dusk to dawn—mosquitoes' favourite time to eat.
- Avoid scented cosmetics and hairsprays, which can attract bees.
- Ditch the bug zappers, traps and candles. "Zappers don't discriminate; 
they'll zap at anything," says Rochon. You'll get insects that are attracted to light, but not the ones that bite you."

Post-bite Rx
- Apply an over-the-counter hydrocortisone cream at the site of any bite to reduce itchiness, redness and swelling, says Prochnau. But skip it if the skin is broken.
- For a bee sting, use your fingernail 
to scrape the stinger away as soon as possible to prevent the release of venom and to reduce pain. An ice cube or a cold compress may also help with swelling.

-Bites usually reach their worst point within 48 hours and clear up after seven days, says Prochnau. If that doesn't happen, or if you experience signs of 
an allergic reaction such as difficulty breathing or swelling away from the site of the bite, seek medical attention right away.

The trouble with ticks
Some ticks carry a bacterium that causes
Lyme disease
, an infection that can result in flu-like symptoms and a bull's-eye-shaped rash around the bite in the short term—and, in the long term, more serious side-effects, such as arthritis and neurological symptoms. When you're in a known tick area, tuck your pants into your socks and your shirt into your pants to keep ticks from accessing your skin. After being outside, check your body, front and back. A tick will attach itself to you to feed on your blood. But in order to transmit Lyme disease, it has to be attached for at least 24 hours, says Dr. Keystone. If you find a tick, remove it using tweezers, without twisting them, to extract the tick in one piece. If it's been more than 48 hours since you've been bitten, see your doctor. You may be prescribed an antibiotic to treat the disease before symptoms appear.

Choose your
repellent
Deet:
"Deet is like a cloaking device," says Kateryn Rochon, assistant professor of entomology at the University of Manitoba. "It blocks insects' receptors so your odour doesn't get to them." A repellent with 30 percent deet (the max allowed in Canada) can protect from mosquitoes, ticks and flies for five to eight hours.
Icaridin:
For those who experience skin irritation from deet, try icaridin. 
It doesn't cause irritation, and 
it may last longer, says Dr. Jay Keystone, medical director at Medisys Travel Clinic in Toronto. And, according to pharmacist Todderick Prochnau of Sylvan Lake, Alta., icaridin is best for 
children: It can be used 
multiple times per day on 
kids six months and older.

Natural options:
If you're looking for a chemical-free repellent, try oil of lemon eucalyptus. But don't expect long-term protection, says Rochon; most natural repellents wear off within an hour or two.
New way to spray:

If you're looking for a chemical-free repellent, try oil of lemon eucalyptus. But don't expect long-term protection, says Rochon; most natural repellents wear off within an hour or two.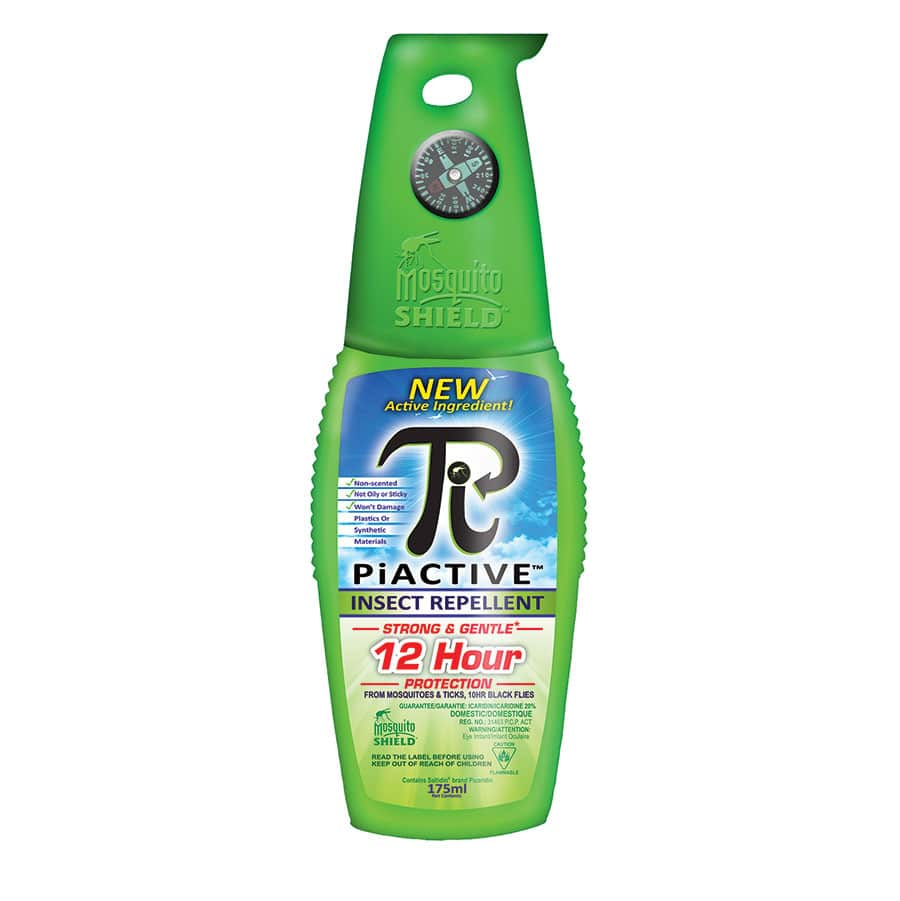 Now that you know how to protect yourself against bugs, you're ready for the great outdoors. Check out these
10 amazing camping spots in Canada
.


This story was originally part of "Outdoor Ready" in the June 2016 issue.
Subscribe to Canadian Living today
and never miss an issue!