Home & Garden
7 Smart Products To Simplify Your Home
Home & Garden
7 Smart Products To Simplify Your Home
Technology is constantly evolving, simplifying many aspects of everyday life, including in our homes. We can now manage our living spaces with the touch of a smartphone screen. From cameras, locks, lights and speakers to vacuum cleaners, refrigerators, air purifiers and even toilet seats—the options are endless for incorporating smart technology into your home. Here, we've narrowed down the playing field—try one of these devices and simplicity will follow. You're welcome!
1 SMART SPEAKER
Smart speakers that interact intuitively with your phone are increasingly easy to use. In addition to offering rich sound, these speakers can connect with each other so you can listen to your tunes as you move around the house. The result is an enjoyable personalized sound experience every time. Plus, some models can even be used as an intercom, making it possible to communicate with people elsewhere in the house.
Try this one Apple HomePod Mini SMART SPEAKER, $129, apple.ca.
2 SMART LOCK
What if your lock could detect your arrival and magically unlock the door as you get there? It may not actually be magic, but it sure feels like it. Gone are the days of fumbling for your keys at the door. But that's not all a smart lock offers—some can remotely unlock your door for guests if you're running late, while others even pair your locks with electronic keys programmed for specific periods of time, kind of like hotel key cards.
Try this one August Wi-Fi SMART LOCK, $280, bestbuy.ca.
3 SMART TOILET SEAT
Say goodbye to the shock of sitting on a cold toilet seat on winter mornings! A heated toilet seat will stay at your preferred temperature. But these luxury devices don't always stop there—they can be a bidet, too, with various adjustable jets, an integrated dryer or automatic lid opening, among many other options. The biggest benefits? Total comfort during those personal moments, an ultra-clean feeling down there and saving your toilet paper dollars for something else!
Try this one Toto Washlet S550e Electronic SMART BIDET TOILET SEAT, $1,749, homedepot.ca.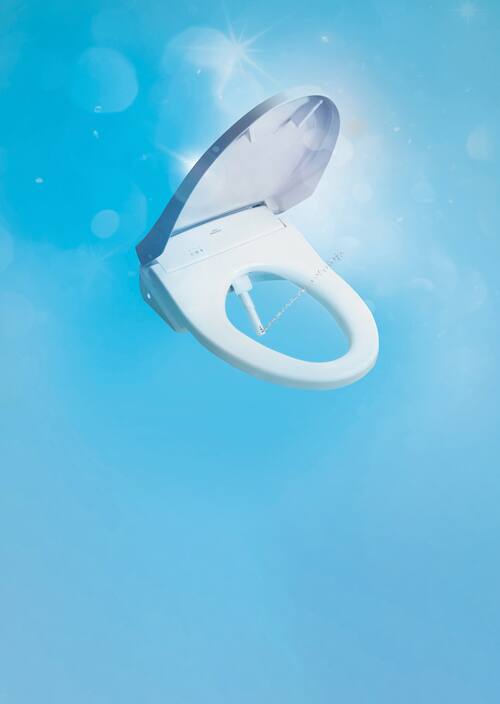 4 SMART 2-IN-1 VACUUM & MOP
We didn't think we could get any luckier when smart vacuums appeared on the cleaning scene. Boy, were we wrong! One of our favourite tech devices is a robot vacuum and mop combo. These double-duty geniuses map out your floor so they know where to clean, then they get to work. The latest models also avoid obstacles, respond to voice commands, offer personalized cleaning and are even self-emptying.
Try this one iRobot Roomba Combo j7+ ROBOT VACUUM & MOP, $1,400, irobot.ca.
5 SMART CAMERA
There is a growing supply of smart cameras that allow us to monitor our homes inside and out right from our phone screen. Some are designed with a speaker as well, so you can talk to the person who's just rung your doorbell (there are smart doorbells, too!), or comfort your pet. If you've chosen a camera specifically made for pet watching, in addition to checking in on your furry companion, you can play a game using the camera's integrated laser pointer or even drop a treat for them.
Try this one Pawbo+ Wireless Interactive Pet SMART CAMERA, $155, amazon.ca.
6 SMART DESK
Because a dedicated functional workspace at home is now a must for many of us, the choice of aesthetically pleasing, adjustable and ergonomic furniture is essential. In addition to allowing you to work sitting or standing, some desk models can be easily adjusted by simply sliding your finger over a sensor or pressing a button.
Try this one Ergonofis The Sway ADJUSTABLE standing DESK, from $1,795, ergonofis.com.
7 SMART AIR PURIFIER
We can greatly improve the air quality in our home by getting an air purifier that filters dust particles, animal hair, pollen and other allergens. Some models combine this functionality with the abil-ity to cool or heat the room at the same time. Smart models can be controlled remotely via an app and can offer additional purification with ultraviolet light.
Try this one Cyclovac Cyclo 310C UV AIR PURIFIER, $400, cyclovac.com.
8 SMART PLUG
These devices are genius—simply insert a smart plug into any wall outlet and follow the instructions on the packaging to connect it to your home's wireless Internet network. Then, plug in the item you'd like to automate, like a lamp or a humidifier, for example. Now you can turn it on or off using an app on your smart phone. With certain smart plugs and apps, you can also use a voice command to activate your machines or put them on an automated schedule (perfect for making it look like someone's home when you're away).
Try this one Geeni Dot SMART WIFI OUTLET, $21, staples.ca.
9 SMART LIGHTING
A light garland creates a cozy atmosphere on the terrace or the balcony, but it can also be perfect for use indoors. To enjoy total control over your lighting, choose a smart model that connects to your Wi-Fi network, allowing you to control brightness and colour remotely.
Try this one Globe Electric Outdoor SMART STRING LIGHTS, $149, homedepot.ca.
10 SMART FRIDGE
The latest generation of refrigerators is ultra-practical thanks to a vast range of smart functions you can find, such as a touch screen connected to the Internet, expiration trackers, and even integrated cameras so you can check the contents of the fridge from your phone.
Try this one Samsung Family Hub 36" 26.5 cu. ft. French Door SMART REFRIGERATOR, $3,000, samsung.ca.