Home & Garden
8 Simple Holiday Décor Ideas for a Festive Home
Home & Garden
8 Simple Holiday Décor Ideas for a Festive Home
Fill your home with the magic of the season. From simple DIY projects to smart buys you'll still love come January, these holiday décor ideas will add festive flair to your home without draining your time or your bank account.
1. Add a surprising pop of colour.
photo credit: Walmart Canada
You can't go wrong with traditional holiday hues like green and red, but bright pastel décor is a mood-lifting alternative. Whether you buy a pink Christmas tree or sprinkle powder blue accents around the house, the unexpected tones will make your space feel fresh and new.
Need a few more accents? You can simply order now from Walmart Online Groceries, and get your holiday décor needs with your grocery order. Walmart not only offers a variety of grocery options, but a large selection of holiday décor, electronics, toys and gifts suggestions.
Conveniently select your items, then book a curbside pickup time and your Walmart store in as little as four hours* or select a contactless delivery timeslot that suits your busy schedule. (Some store locations even deliver in as little as two hours with Express Delivery, for a fee of $14.97!) Pickup is free at your local Walmart store on any grocery order over $35. Plus, new Walmart Online Grocery customers can save by using code 60CANADA for $15 off their first four orders of $75 or more.**
2. Fill trays with candles.
photo credit: Walmart Canada
No fireplace? No problem! Simply assemble votive and pillar candles on trays and strike a match. You'll achieve the glowy, flickering effect of a fireplace and—if you're strategic about buying scents like pine or warm apple pie—make your place smell amazing, too.
3. Turn a bar cart into a hot cocoa station.
A hot chocolate stand with all the fixings will be a sure-fire hit with kids and adults alike. Stock yours with festive holiday mugs, spoons, sprinkles, assorted jars of hot white or chocolate powder, mini-marshmallows and peppermint sticks. Whipped cream should be close by. You can choose to keep your beverage displayed as a décor piece and have warm cocoa during family movie nights, or any other gathering.
4. Opt for pre-lit greenery.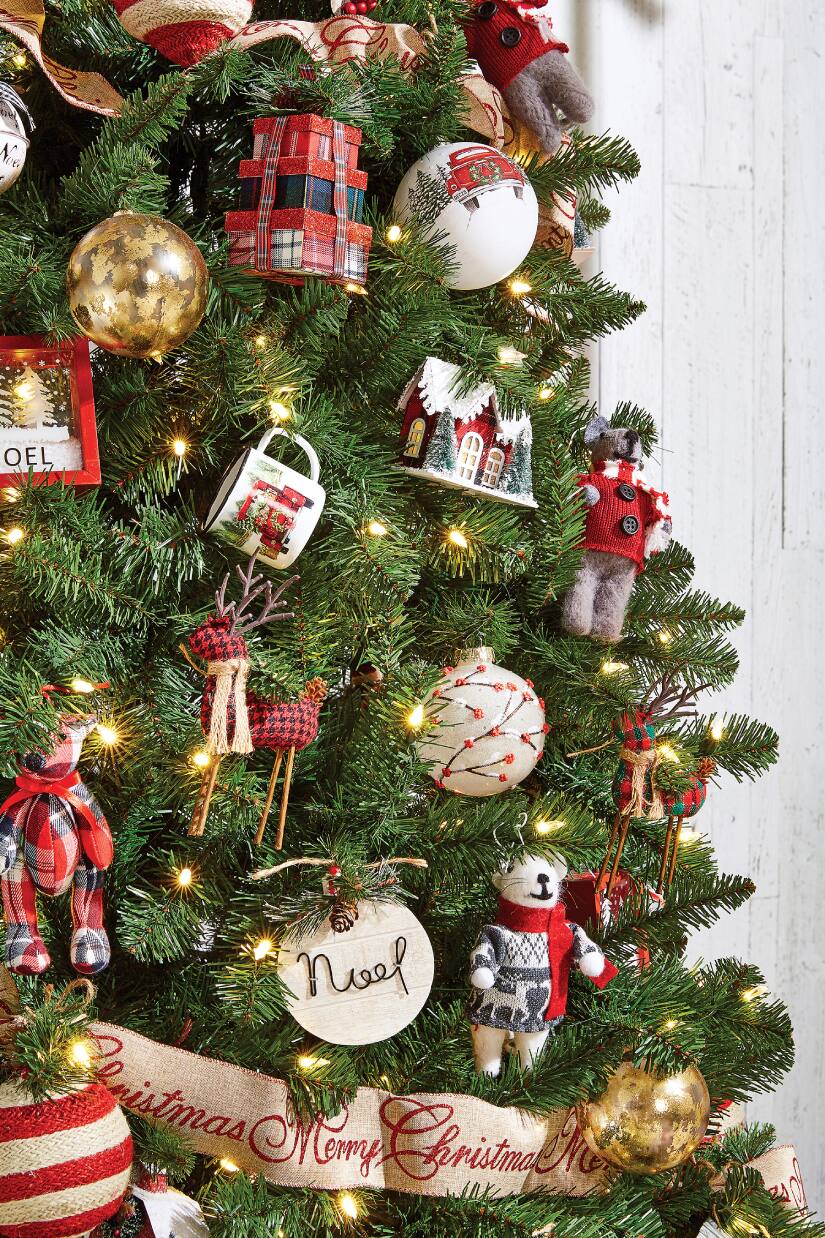 photo credit: Walmart Canada
Hanging twinkly lights is a cheap-and-cheerful way to make any space feel special. Ditto for greenery. Put the two together and you have a match made in heaven.
5. String up candy canes.
The striped red-and-white sweet is affordable, easy to find over the holidays and can be placed anywhere that needs a dose of cheer. Try hooking each cane over a loop of festive ribbon and hanging it off of your tree, the garland on your fireplace, the wreath on your door or even in the gaps of your bannisters.
6. Make vignettes with nutcrackers, miniature trees and other holiday figures.
photo credit: Walmart Canada
One of the easiest ways to make a mantle or table feel professionally styled is to cluster together items—like reindeer, nutcrackers, small trees or plants and Santa statues—of different heights. It will make your space feel more "done" than one element on its own and the height variations create visual interest.
*Excludes Penguin Pickup locations. Minimum $35 order before taxes and fees. See Walmart.ca for details. ** The offer is only valid for new customers with a minimum spend of $75 before taxes and fees. Offer ends February 28, 2022. See walmart.ca/redeem for details.