Home & Garden
Destination: Stratford, Ontario, where fun meets culture
Home & Garden
Destination: Stratford, Ontario, where fun meets culture
Stratford, Ontario, is your summertime destination for world-class theatre, great food, amazing Victorian architecture and antiques!
I had a fabulous time day-tripping in
Stratford
with my dear friend Susan Antonacci on the weekend. It had been years since my last visit to Stratford and this time I had the perfect reason to go! Susan's über-talented son,
Gabriel Antonacci
, is experiencing his first season with the
Stratford Festival
, appearing in two popular plays,
Tommy
at the Avon Theatre and
Fiddler on the Roof
at the Festival Theatre. We were both so excited to see his plays! If you think the Stratford Festival is all Shakespeare, think again! The 2013 festival offers contemporary theatre extravaganzas, like
Tommy
with music and lyrics by
Pete Townshend
. It was fabulous! I was particularly blown away with the stage design by set designer
John Arnone
and the very latest in audiovisual stage technology by lighting designer
Howell Binkley
and projection designer
Sean Nieuwenhuis
. And, of course,
Gabe
was a star! Next visit I'll take in
Fiddler on the Roof
. [caption id="attachment_2221" align="aligncenter" width="553"]
The gardens of the Stratford Festival Theatre, in Stratford, Ont. Photo by Karen Kirk.[/caption] [caption id="attachment_2222" align="aligncenter" width="399"]
Take a stroll along the promenade at the foot of the Festival Theatre. Photo by Karen Kirk.[/caption] [caption id="attachment_2223" align="aligncenter" width="530"]
Stop a while and enjoy the famous people-friendly Stratford swans. In April the swans return from their winter quarters to their summer home serenaded by bagpipes in the Annual Swan Parade. Photo by Karen Kirk.[/caption]
Before or after the play... go antiquing!
Just a few minutes outside the town of Stratford you'll be tempted to stop into several wonderful antique shops located on one small block in the quaint little town of Shakespeare. The owners of many of these antique shops (these aren't junk shops!) have been offering authentic antiques and handcrafted furnishings year-round for decades to Stratford locals and visitors from around the world. We also discovered a couple of fun "this and that" shops that are also must-sees (more about these in an upcoming blog post). And I'd challenge anyone to leave Shakespeare without hitting up The Tin House chip wagon! These chips are the real deal! If you plan a trip to Stratford for a play or concert this summer, you might want to make it a sleepover. One day for shopping and antiquing and one day for dining and a play or two. There's nothing like spending time with family and friends in Stratford, Ontario. Here are some of the highlights of our visit to Stratford and Shakespeare.
Antiquing and treasure hunting
[caption id="attachment_2238" align="aligncenter" width="568"]
Land and Ross Antiques and Design. Photo by Karen Kirk.[/caption] [caption id="attachment_2239" align="aligncenter" width="530"]
Peter Land and Wayne Ross established Land and Ross Antiques and Design in Shakespeare 30 years ago. Photo by Karen Kirk.[/caption]
Above:
Land and Ross Antiques and Design
specializes in quality country, formal antique and reproduction furniture. Want to know the story behind a piece? Just ask Peter and Wayne for all of the fascinating facts! Also visit their other shop, Shakespeare Antique Centre, which houses goods from dealers around the area. [caption id="attachment_2236" align="aligncenter" width="540"]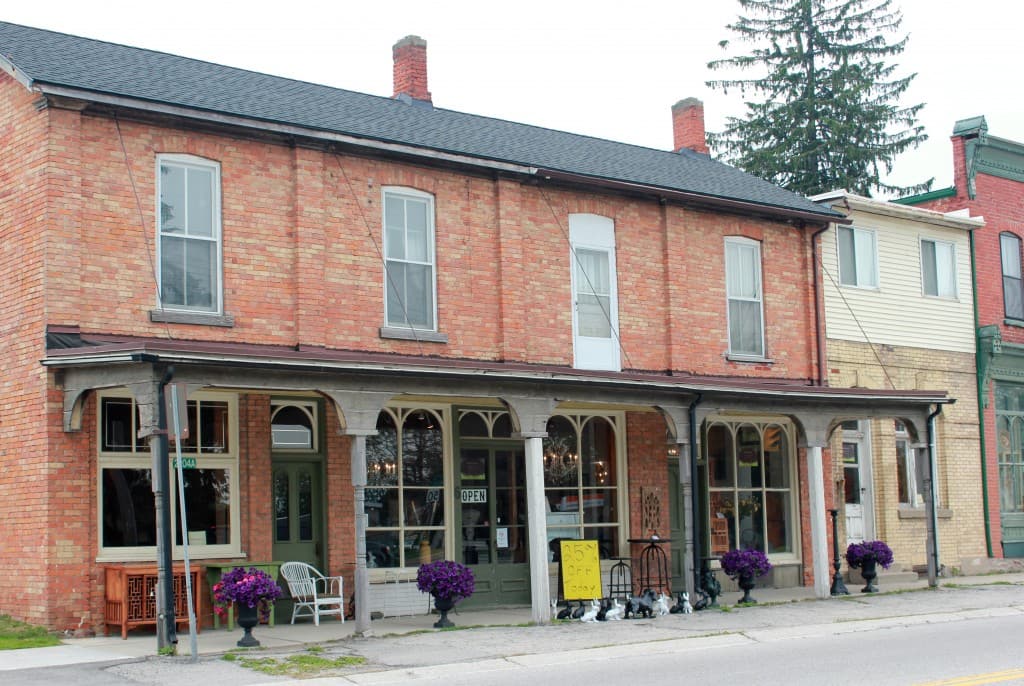 Chanticleer Furniture and Gifts resides in the original Shakespeare town post office and bank. Photo by Karen Kirk.[/caption] [caption id="attachment_2235" align="aligncenter" width="571"]
Heather Laflamme, owner of Chanticleer Furniture and Gifts. Photo by Karen Kirk.[/caption]
Above:
Heather's shop Chanticleer Furniture and Gifts features a variety of furniture styles, old and new, as well as unique accessories and wonderful industrial-style pieces from reclaimed lumber and metal crafted by her husband. Contact her at 519-625-8108. [caption id="attachment_2241" align="aligncenter" width="377"]
Glen Manor Galleries offers fine antiques in Shakespeare, Ont. Photo by Karen Kirk.[/caption] [caption id="attachment_2245" align="aligncenter" width="530"]
Carl Booth and Brian Campbell, the owners of Glen Manor Galleries[/caption]
Above:
For over 30 years, Carl Booth and Brian Campbell, the owners of Glen Manor Galleries, have offered 18th- and 19th-century furniture, and English and North American silver, paintings and glass. Reach them at 519-625-8920. [caption id="attachment_2254" align="aligncenter" width="568"]
Jonnys Antiques is an extraordinary, upscale antique shop in Shakespeare that you won't want to miss! Photo by Karen Kirk.[/caption] [caption id="attachment_2250" align="aligncenter" width="568"]
Appraiser and owner Jonny Kalish, pictured in the basement with his countryside collection, has run Jonnys Antiques for over 45 years. Photo by Karen Kirk.[/caption]
Above:
If you love antiques and beautiful things don't miss
Jonnys Antiques
, run by appraisers James Bisback and Jonny Kalish, with several rooms and floors filled with beautifully displayed fine antiques, including furniture, glass, porcelain and art, from estates and homes around the world. I'll tell you more about
Green Cottage Gallery
, That Perfect Piece and
Sugar Bakeshop and Confiserie
in an upcoming blog post, along with some fun DIYs inspired by their owners. Finally, before you leave Shakespeare be sure to make two stops. First at The Tin House for the best chip wagon fries! [caption id="attachment_2258" align="aligncenter" width="530"]
Get the best chip wagon fries in town at The Tin House. Photo by Karen Kirk.[/caption]
Below:
Then stock up on your favourite British sweets, treats and memorabilia at
The British Touch
and meet the happiest Brits in Canada: Steve Czartorynsky and his 87-year-old mom Betty! Smiles are free! [caption id="attachment_2226" align="aligncenter" width="568"]
Susan wouldn't leave Shakespeare without taking me into her favourite shop to stock up on British treats before heading home. Photo by Karen Kirk.[/caption] Plan a weekend in Stratford over the summer. You'll have a wonderful time! Follow me on Twitter:
@KKMe123