Home & Garden
Inside Mexico City's W Hotel
Home & Garden
Inside Mexico City's W Hotel
Because it's *always* about the bathroom. Photography by Brett Walther.
A
bathroom
can make or break a
hotel room
. In the case of the
W Hotel
in
Mexico City
, for instance, the bathroom elevates a decent suite into a truly unforgettable one.
Not ones for false modesty, the W Hotel Mexico City calls this suite "the Wonderful Room." What's truly wonderful, though, is the bathroom, with separate zones allotted to the shower/tub combo, vanity and W/C (just to the left of the frame). Photography by Brett Walther.
Yes, that is indeed a hammock suspended in front of the floor-to-ceiling window. And yes, I did indeed crawl in and soak up the vista from my comfy 19th-floor perch. The freestanding, lozenge-like tub is paired with a luxurious rainshower shower head that makes less of a mess than you might expect, given that there's no proper shower enclosure. Photography by Brett Walther.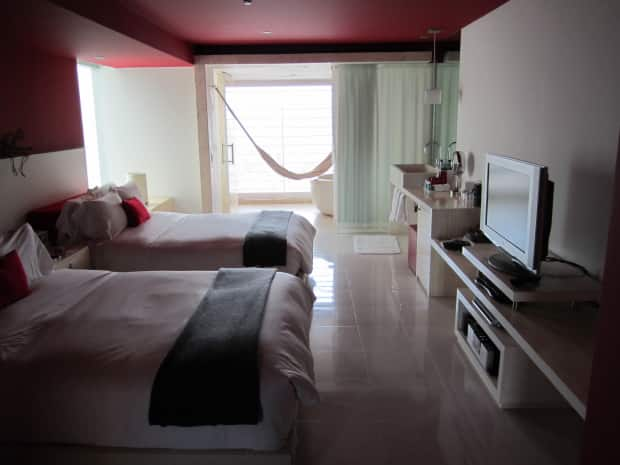 The sunlight filtering through the bathroom's louvered shutters instantly draws the eye down the length of the room, ensuring the bathroom is the focal point the minute you step inside. Photography by Brett Walther.
If you go to the W Hotel Mexico City:
* The online rate for the Wonderful Room is about
$450 USD
. * Nearby attractions include
Mexico City's
1,600-acre
Chapultepec Park
. Within the park boundaries, you'll find three lakes, three museums and—wait for it—a roller coaster. * After dark, the hotel's lounge (known as
Living Room
), is actually a fairly decent bar. Well worth hitting up before hitting the town.
Follow me on Twitter!