Home & Garden
Top 10 finds from the 2013 One of a Kind Christmas Show
Home & Garden
Top 10 finds from the 2013 One of a Kind Christmas Show
"It's like Etsy, but in real life."
That's how I described the
One of a Kind Christmas Show
to a buddy of mine last year in an attempt to convey just how overwhelming a shopping experience this event can be. I mean, where else can you browse the wares of
800 amazingly talented Canadian artisans under one really big
roof
?
To give my fellow super-shoppers a bit of an advantage when the doors open at Toronto's
Direct Energy Centre
on
November 28
, I engaged in a (purely altruistic!) bit of pre-shopping, and assembled a list of 10 of my favourite finds. Get your credit cards ready. ;)
1. Paula Gonzalez ~ Pillows, $80 each, Phaulet (Coquitlam, BC). I'm almost at a loss when it comes to describing the style of these eye-popping toss cushions, and that's one of the reasons I'm so enamoured with them. There's something delightfully irreverent about the pairing of fussy polka dots with kaleidoscopic blossoms, and the colours are simply stunning.
2) Alexx Boisjoli ~ Ceramic tumbler with gold squirrel motif, $30, RCBoisjoli (Toronto, ON). I'm all about chic silhouettes, and this golden squirrel hits just the right seasonal note.
3) Tricia O'Quinn ~ Seasonal art prints, $18 each, Tricia O (Burlington, ON). Does anyone else hear Yoda's voice when reading the line on the left-hand print? Nevertheless, it works beautifully paired with yet another festive silhouette of a woodland creature.
4) Mariel Hunter & Mischka Alexi Hunter ~ Flava glass vase, $220, Kingston Glass Studio & Gallery (Kingston, ON). I'm not normally a fan of art glass, but the vivid ombré effect of this fuchsia vase has totally won me over. Striking!
5) Jaimie Robson & Maya Ersan ~ Porcelain scoops, $90 per set of three, Atelier Make (Montreal, QC). Wouldn't these be perfect at a wedding reception's candy station?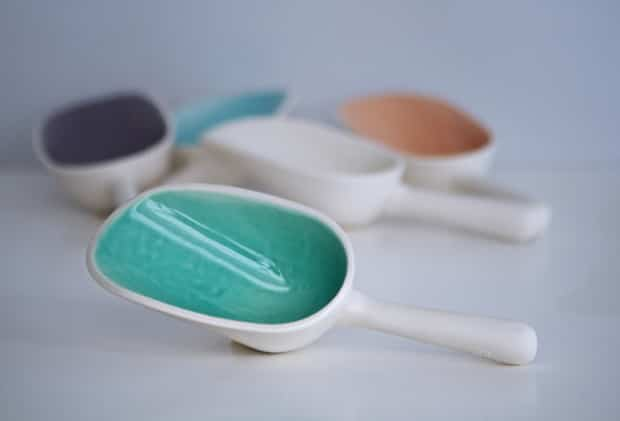 6) Jenna Fenwick ~ Birds & Bees tea towel, $18, Jenna Rose (Lanark Highlands, ON). Artisanal tea towels always make great hostess gifts.
7) Laura Benini & Michelle Jack ~ Stockings, from $45 each, Sew Hip It's Chic (Toronto, ON). From the button detailing to the unusually refined fabric, these one-of-a-kind stockings are a must for the mantel. Or, how about using them in lieu of a gift bag to dress up a well-chosen bottle of wine?
8) Mike Collier ~ Retro wooden toy kitchen set, $1,100, Kid-Chen Co. (Toronto, ON). I know it's pricey, but... Come on. Isn't this the cutest kitchen play set you've EVER seen?!?
9) Randy Loewen ~ Beeswax candles, from $8 each, Circa Candles (Jordan, BC). I admit it. I'm a scented candle guy (well, good scented candles, that is), but there's something about the natural smell of beeswax candles that makes me feel cozy and nostalgic.
10) Anu Batra ~ Subway silk scarf, $150, Anu Raina (Oakville, ON). I know this isn't home decor, per se, but I'd love to mount this silk scarf -- depicting a map of Toronto's subway system -- behind a crisp white matte and hang it on the wall as DIY art.
The One of a Kind Christmas Show runs from November 28 to December 8, 2013, at the Direct Energy Centre in Toronto (100 Princes' Blvd.). Tickets for adults are $14 at the door.
Are you hitting up the show this year? Let me know what treasures you found!
Follow me on Twitter!