Decor & Renovation
10 Canadian celebrity designers dish on their best design tips
Decor & Renovation
10 Canadian celebrity designers dish on their best design tips
We asked some of Canada's top celebrity designers to spill the beans on their best-kept design secrets—and did they ever! Read on for expert advice on everything from space planning and choosing paint colours to styling shelves and how to create a foolproof gallery wall.
The inside scoop on space planning
How much space do you need around your dining room table? Can you really make a room feel larger? Our experts weigh in.
Tip 1: Sofas should be two-thirds the length of the longest wall, and seating is placed close enough around so no person is more than eight feet from another to allow for easy conversation. — Glen Peloso and Jamie Alexander
Photography by Arnal Photography
Tip 2: One easy rule to figure out what size dining table you need: allow for a minimum of 30 inches walking clearance on all sides. — Karl Lohnes
Tip 3: Space planning is critical. For a kitchen island, for example, leave three feet of space between the island and surrounding counters. Ensure that appliances (like the fridge or dishwasher) can open without blocking traffic flow or hitting neighbouring walls or cabinets. Not leaving enough room is a mistake people make all the time, before they call a designer in a panic to help fix it! — Lisa Canning
Photography by Arnal Photography
Tip 4: Use mirrors strategically to expand space and increase the amount of natural light reflected in the room. Framing a wall with floor-to-ceiling mirrors adds a dramatic effect to the feeling and scale of the room. — Brian Gluckstein
Photography by Arnal Photography
Tip 5: Allow for 18 inches between the sofa and the coffee table so people have enough room to pass by and to make it easy to reach for drinks or food. — Amanda Forrest
Tip 6: Want to make sure furniture fits before it arrives at your door? There are a host of free sites (like planyourroom.com) that allow you to put furniture onto a scaled floor plan. Another option? Many furniture and decor stores offer free design services, and they'll do the calculating for you. — Janette Ewen
Light it up
Follow these five rules and your lights will shine in all the right ways.
Tip 1: As a general rule, place pot lights 24 inches out from walls and 24 inches apart to create a grid. — Glen Peloso and Jamie Alexander
Tip 2: Install dimmer switches; they're a practical way to control light and energy consumption. — Amanda Forrest
Tip 3: The bottom of the shade of your bedside reading lamp should be at shoulder height when sitting in bed. Do the math! — Karl Lohnes
Tip 4: Choose a pendant or chandelier that's one-third the size of the table or kitchen island. Hang it approximately 30 to 36 inches above the table or island; if there are more than one, place them 12 to 18 inches apart. — Mia Parres
Tip 5: Incandescent bulbs are great for atmosphere lighting, but LED bulbs are more suited to task lighting, when you really need to see what you're working on. — Janette Ewen
The inside scoop on paint and palette
Did you know that paint selection should be one of the last decisions you make when decorating a room?
Tip 1: I'm a firm believer in mood boards. They're not just for designers! Gather together fabrics, paint samples and inspiration images for a room before starting. It will create a picture and a trajectory that you may not have thought of. — Steven Sabados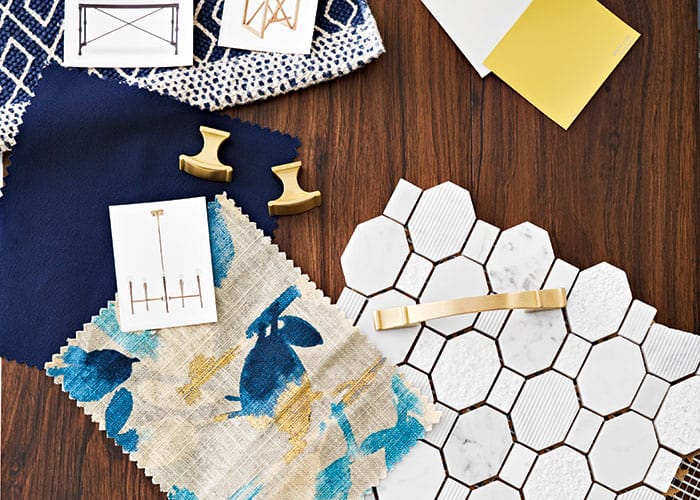 Tip 2: When you design a room, pull your palette from one inspiration fabric. Whether you use a whimsical print or a more traditional pattern, take all the colours present in that material and allow those to guide fabric selection for pillows, throws, drapery and upholstery in the room. Take that same fabric to the paint store and have a custom colour mixed that matches one of the hues exactly. — Lisa Canning
Tip 3: Be bold when it comes to front-door colours. One of my preferred colour schemes for home exteriors is Benjamin Moore's Chelsea Gray HC-168 as the body of the house, with Benjamin Moore's Simply White OC-117 as the trim, and a pop of colour with Benjamin Moore's Dill Pickle 2147-40 on the door. — Amanda Forrest
Photography by Amanda Forrest
Tip 4: Fine finish
Choose a fresh trim colour in a semigloss, such as Benjamin Moore's Chantilly Lace OC-65. It creates a subtle separation from a matte wall, and it's a much more durable finish, which comes in handy since trims are usually the most touched, bumped and scuffed parts of our homes. — Mia Parres
Tip 5: Colour pop
If you buy that cool orange statement chair, give it a buddy. When you're adding a colourful piece to a space, always have at least one other subtle hit of that colour elsewhere in the room to create a cohesive feel. — Tiffany Pratt
Tip 6: Want to make a room feel taller? Paint baseboards and crown moulding the same colour as the walls. Want it to feel huge? mix one-third of the wall colour into the ceiling paint. — Karl Lohnes
The inside scoop on styling
You've bought the sofa and painted the walls. Now what? Our experts show you how to style a room like a pro.
Tip 1: Shop at stores that have liberal return policies and buy three times as much as you think you need. This gives you plenty of merchandise to play with to see what works and what does not. Mix in unique family heirlooms and vintage finds with the new pieces you purchase to create a naturally curated look. — Janette Ewen
Photography by Magdalena M
Tip 2: For a no-fail pillow combination, you need only three: one 20- by 20-inch, one 16- by 16-inch and one 12- by 16-inch. Those sizes look good together no matter how you arrange them! — Jo Alcorn
Tip 3: Beauty is in the details
When styling a console, include framed art on easels or leaning against the wall; it's a great way to display smaller pieces. Create a dynamic vignette by mixing in boxes, vases and vintage pieces in differing heights and dimensions. — Brian Gluckenstein
Tip 4: Mix and match
Use these common elements when styling shelves: stacks of books, gorgeous flowers and at least one accessory that has a lot of shimmer and shine. Varying heights and textures is also really important for visual interest. — Lisa Canning
The inside scoop on art
Take the mystery out of hanging art.
Tip 1: Make your own art! Buy a canvas in a size you're looking for, then grab some paint in the colours you're decorating with, and see what happens. Great masterpieces are born of happy accidents or beautiful mistakes.
— Tiffany Pratt
Tip 2: When hanging art on an empty wall, the middle of the art should to be hung 66 to 72 inches off the floor.
— Karl Lohnes
Tip 3: Art relates to furniture, not the ceiling: Keep art about six to eight inches above the sofa, or any piece of furniture, when hanging it. — Glen Peloso and Jamie Alexander
Tip 4: For a gallery wall, use different-size frames in one single finish and select artwork with a consistent theme in colour or subject matter to keep the display cohesive. — Brian Gluckenstein
Photography by A Plus Creative